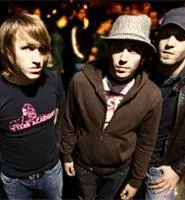 Will Spitalfield follow Hawthorne Heights into stardom -- and label discontent?
Victory Records is the new Sub Pop, capitalizing on the emo movement and leveraging the passion and perseverance of owner Tony Brummel into sales that far outstrip those of indie competitors. Which, naturally, leads to major-label executives circling Victory bands like vultures.
Due to Brummel's diligent marketing -- he's known to keep promoting albums years after their release -- and his bands' rigorous touring schedules, several Victory albums have sold more than 200,000 copies. Taking Back Sunday has been certified gold twice, while Hawthorne Heights' debut, Silence in Black and White, is closing in on platinum status. No small feat for an independent label with a meager marketing budget.
Yet a flurry of high-profile bands -- including Hatebreed, Thursday, and Taking Back Sunday -- all bolted from Victory, leaving recrimination in their wake.
Earlier this month, Hawthorne Heights filed a lawsuit against the label, asking to be released from its contract. In a statement posted on its website, the band complains of unpaid royalties, saying that Brummel "cares more about his ego and bank account than the bands themselves."
Hawthorne Heights also makes clear that Brummel holds grudges. After Taking Back Sunday left the label, he allegedly tried to blacklist the band. Hawthorne Heights charges Brummel with "threatening the head program director at Q101 in Chicago for putting the new Taking Back Sunday song into rotation."
Basically, Brummel is accused of being indie rock's Karl Rove -- an unprincipled, cynical, and extremely effective marketer.
Which puts Spitalfield -- poised to be Victory's next big thing -- in a delicate situation.
With the band's crucial third album, Better Than Knowing Where You Are, coming out October 3 on Victory, the last thing singer-guitarist Mark Rose wants to do is get drawn into "the middle of a family fight," he says. For Spitalfield, which spent much of last year touring alongside Hawthorne Heights and becoming good friends with the band, there's just too much at stake to play anything other than the good soldier.
"We can't really go against [Victory] -- even though Hawthorne is our friend and we'd like to stand by them," Rose says from Chicago.
Spitalfield has worked too long and too hard to get distracted by label politics. Rose and drummer J.D. Romero have been playing together since they were 14. Originally members of hardcore bands, they were drawn in the mid-'90s to the emerging midwestern emo sound of bands such as Braid, Promise Ring, and Compound Red.
Eight years later, Rose is particularly proud of the new album. This time out, the band honed a collection of more than 20 demos into 12 lean cuts that strike a balance between the pop production of its debut, Remember Here Now, and the raw rock roar of the follow-up, Stop Doing Bad Things.
Rose says that major labels started approaching him after the release last year of Bad Things, but describes the thought of making that jump as "scary."
"Time and again, I've seen bands make the leap and fall flat on their faces -- but I've also seen bands go through the roof," Rose says. "Maybe it is time [for Hawthorne Heights] to move on, but the fact that they've been able to sell over a million records -- maybe something is right where they are."
Whatever the source of Hawthorne Heights' success, Spitalfield would be smart to replicate it, and the bandmates have come to feel that Victory was a big part of it. Then again, if this album's as big as Rose and his mates hope, they may be the ones departing Victory next year.