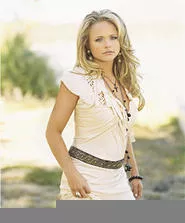 Miranda Lambert: A Texas babe who kicks serious ass and writes serious songs.
"It just got
fluffy
," Miranda Lambert says of mainstream country music from the '80s and '90s. That's a fitting view, considering Lambert sang about dousing a no-good ex with kerosene on the title track of her 2005 debut.
"Everything just got so happy," she explains, taking a call before a concert in Tampa, Florida. "But I don't really think country people who are stuck in traffic and having a shitty day want to hear about how happy everybody is. They want reality. I wanted to sing about what I was thinking on a crappy day, 'cause I'm sure somebody else is having one too."
So yeah, it's entirely possible that Lambert, all Texas twang and southern sweetness, sits in traffic and thinks of ways to off those who have fucked her over. "I'm from Texas, so I guess I've got that attitude of 'Don't mess with me. I don't take any crap,'" she says.
Since 2003, when she placed third on the American Idol knockoff Nashville Star, the 23-year-old blonde has established herself as one of country music's hottest stars. Kerosene went platinum, and she earned a Grammy nomination for that fiery title track, which she wrote (like most of her tunes).
Lambert has become a Gretchen Wilson for a younger generation -- except she's able to sing about something other than trailer-trash shenanigans, and she's actually worthy of the respect heaped her way.
Although this year's Crazy Ex-Girlfriend, her sophomore effort, offers new emotional content, it also contains more odes to female empowerment. "Gunpowder & Lead" describes what little girls are made of, while on the title track, Lambert considers shooting the skank who stole her man -- but she starts a bar fight instead.
"Crazy Ex-Girlfriend" actually started off as an upbeat and less violent song called "Favorite Ex-Girlfriend." But it didn't take long for Lambert to nix the idea. "That's not me," she says, laughing. "That's not what I'd say. I'm the one who says, 'Oh no, you don't take my man. I'm going to get him back.' I just wanted to make sure I stayed true to who I really was."
Staying true to oneself just might be Lambert's biggest beef with country music. "There's room for all types of artists, as long as they're artists," she says. "I just think that country's about real things and real singer-songwriters, and people that sing about drinking and cheating and being in love. It just has to be in their hearts."
That's why Crazy Ex-Girlfriend bleeds new emotion. On songs like "Love Letters" and "More Like Her," Lambert now contrasts rough-and-tumble ways with a young, tender heart.
"I can be sweet," she insists. "I have a big heart. I grew up in church, and I grew up a Christian girl. I have a really great family and great values. I guess being out there now in the real world, and my parents being private investigators all while I was growing up -- I've just seen a lot of ugly in the world. I've grown up seeing the reality of things. I guess that's left me a little jaded."
Lambert's father was a narcotics officer for the Dallas Police Department. And along with his wife, he ran a private investigation service. "Our dinner conversations were about who was cheating on who," she says. "That's just what they did, so I'd hear it. I guess when I started writing songs, that stuff all started coming back to me. After all, I was only 17. I didn't have a lot to be writing about."
Four years since Nashville Star, Lambert is also able to say, once and for all, that she's glad she didn't win. Consider 2003's big winner, Buddy Jewell: His debut only went gold, and his follow-up sold so poorly that Sony dropped him. Subsequent winners fared even worse. Lambert, in fact, is the only successful contestant ever to emerge from the show: She and American Idol's Carrie Underwood and Josh Gracin are the only music competition/reality-show contestants to succeed in the country market.
"If you win a show like that, you constantly have that stigma," she says of both shows' cheesy reputations. "I was writing songs all the way through Nashville Star, and I kind of knew I was going to get a record deal. But I didn't want to make the record in a month [if I actually won]. I wasn't at all ready.
"I'm proud of the show," she adds, looking back on two and a half years of playing bars and honky-tonks. "It got me where I am. I think getting third place got me all the exposure I needed, but I also got to do it my own way."
There's something unique about Lambert -- something that Underwood and Kelly Clarkson had after American Idol: the perfect combination of self-assurance, work ethic, and determination.
"People ask, 'What happened to the other people on Nashville Star?'" says Lambert. "I think people assume that just because I was on TV, it's all going to fall in my lap, but it's sooo much work.
"Somebody told me during Nashville Star -- and this stuck with me -- 'You're not competing with yourselves. You're competing with Faith Hill and Martina McBride.' And you know what? That's right. It's a constant competition, and Nashville Star just prepared me for the rest of my career."