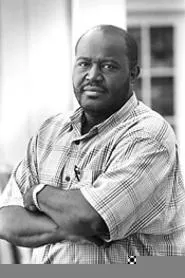 Van Glen Neal's efforts have led to several liquor store closings in the past decade.
The guy, whoever he is, picks the perfect time to piss on a building. Perfect, anyway, if you're a pair of activists trying to show that even in broad daylight, crime, grime, and general malaise plague Buckeye Road.
The man's head swivels when he hears Van Glen Neal and Carol Davidson scuffling across the parking lot of a boarded-up building near East 116th. He flashes a quick smile, then turns back to decorating the wall of what once was a bank. He finishes, zips, and scurries across Buckeye to 1 Stop Liquor & Beverage. Minutes later, he lurches out clutching a bottle, its top jutting from a brown paper bag.
Neal and Davidson grouse about what they've witnessed, but a note of "See?" trills in their voices. The man has diagramed, so to speak, their core beef: that beer and wine stores continue to grease the neighborhood's decline.
"It's the middle of the day, and you have people urinating," says Neal, president of the Buckeye Area Community Action Council. "And that's nothing compared to what you see at night back here [in the parking lot] -- drug dealers, prostitutes, people having sex."
He points toward the liquor shop. "These stores are where the problems start."
There's a natural urge to agree, to think of the neighborhood as an unofficial alcohol district. Eight stores sell liquor on a 17-block stretch of Buckeye Road, between East 113th and East 130th streets. A handful of other outlets lurk within a stone's throw of the boulevard.
Davidson, also a member of the council, sees the stores as hubs from which unsavory activity fans out like spokes -- impaling the area's commercial potential.
"What business wants to have a store here, in a place where you have groups of people hanging out in the middle of the sidewalk?" she asks. "People don't even like to walk down the street here."
The frustration only grows when anti-liquor crusaders measure Buckeye against Shaker Heights, their next-door neighbor with the burnished streets and image. The area's crown jewel is Shaker Square, where couples stroll arm-in-arm from restaurants and trinket shops to a bookstore and movie theater. Storefront lights cast a glow of prosperity.
A mile to the southwest, discarded fast-food sacks and grocery bags whirl into mini-twisters as a breeze blows along Buckeye Road. Retractable overhead doors mask storefronts -- some shops are closed for the night, many others for good. The sparse sidewalk traffic consists of clusters of teenagers and young men loitering on wanly lit corners.
The street's heaviest activity stirs at Gene's Corner Beverage at Buckeye and 113th. Cars waiting in line at the drive-through window snake five-deep through the parking lot. Inside, inch-thick bulletproof glass separates the clerks and merchandise from a foyer not much larger than an elevator.
"Don't let this fool you," says a man behind the counter, tapping the yellowed glass. "You can find crime anywhere you look in Cleveland. This is a good neighborhood."
Not quite, say Neal and Robert Render, co-founder of the community council. They argue that Buckeye will become a good neighborhood only with the prohibition -- or near-prohibition -- of liquor outlets.
Neal and Render tilt at carryout stores with quixotic zeal. They've successfully worked to close several stores over the last decade, organizing dry-out petitions and pestering city officials to fight liquor license applications and transfers. They muster support for the cause with shoe leather and chatter, working cell phones in the spastic manner of day traders.
"I think they're doing the right thing," says Harvey Stone, co-owner of Access Mortgage and Financial. From his office window, he has watched hookers pick up johns and drug dealers make sales. "We need to try to get things cleaned up around here."
The activists' fervor derives from watching the quaintness drain out of Buckeye over the last 20 years, thanks to an exodus of residents and businesses to the suburbs. Antique shops and bakeries were carried out by the tide; liquor stores floated in.
Now, easy access to alcohol in the neighborhood bolsters the stereotype of Buckeye "as the kind of place where these things happen," Render says. He's referring to a cop who shot a drug suspect near East 125th and Buckeye on August 22, an incident that precipitated a thicker police presence in the neighborhood. "The carryout stores are magnets. They draw people here, then bad things happen."
To an extent, the surfeit of stores reflects a wider glut in Cleveland. The city has 357 more liquor permits than it would if it adhered to the state's liquor outlets-to-residents ratio.
The saturation persists from the days when booze flowed more freely throughout Ohio. Despite the state-imposed limit on cities of one bar permit for every 2,000 residents and one carryout store for every 1,000 residents, liquor licenses cannot be arbitrarily rescinded. In addition, licenses can be transferred from one property owner to the next.
But it also could be argued that, judging from the flow of customers into 1 Stop Liquor on a Wednesday afternoon, Buckeye's carryout stores simply fill a need. While grassroots activists chase this observation with a shot of skepticism, the fact is, not everyone regards alcohol vendors as enablers of urban decay.
"We have our problems," says 70-year-old Mary Schek, a resident since 1974. "But I don't think it's the stores. There's not that many of them anymore. The ones that are left, that's just what the community can support."
Adds Stephanie Evans, a 23-year-old mother of one: "I don't think the beer and wine stores are what's wrong. If they didn't have them here, people would just go buy alcohol somewhere else and bring it back here."
Teresa Richards works the cash register at Buckeye South Woodland Beverage. The longtime resident concedes that the neighborhood has its struggles, but considers alcohol a 180-proof scapegoat. "Beer and wine have been around forever. That's not the problem."
City council members Ken Johnson and Patricia Britt's respective wards each claim one side of Buckeye Road. Activists accuse them of civic negligence, saying both have abdicated the battle over carryout stores and left the dirty work to residents. As Render likes to say, "We're the bastard child of the city."
Johnson defends his revival efforts in the neighborhood, citing a handful of beautification and development projects. He also pointedly questions the logic behind hounding liquor vendors out of business.
"Something these [activists] don't consider is that a lot of people would lose jobs. Who would that help? Buckeye's coming along. It's just not coming along as fast as some other neighborhoods."
Few would disagree that Buckeye Road needs scrubbing. Still, some suggest the anti-liquor forces perceive the street with jaundiced eyes. Activists see a strip of despair patrolled by gangs, crack dealers, and hookers, their antics punctuated by an occasional pop of gunfire and played out amid hollow buildings that bespeak economic famine.
In reality, the thoroughfare boasts clothing stores, dry cleaners, record shops, nail salons, fast-food chains, a grocery store and an adjoining strip mall, five day-care centers, and at least a half-dozen churches. In fact, the neighborhood resembles most of the city's enclaves, built in an era when stores, bars, and churches ran together.
If Buckeye lacks the aesthetic of Shaker Square, if residents advise against strolling along the street after sundown, it still retains prospects, Lawrence Williams says.
"I really think things are better than they were a few years ago," says Williams, who has run the Buckeye Variety convenience store for almost 20 years. "Sometimes, I just think people don't realize what they have."
Williams, who doesn't sell liquor, rejects the idea that Buckeye suffers from alcohol poisoning. "Those stores are just trying to make a living, just like anyone else."
Neal and Render say they hold nothing against stores staying solvent -- so long as they don't line their tills from alcohol sales. In their latest triumph, they helped prevent Sohear Farraj, owner of the boarded-up Lucky 7 convenience store, from obtaining a liquor license.
Farraj, who sought the license earlier this summer in anticipation of reopening the store, has appealed the state's denial of her application. Activists objected to her permit because the store sits next door to a Head Start center.
A perturbed Farraj says she now may sell the property to the Buckeye Area Development Corporation. Wrangling with Neal, Render & Co. isn't worth it, she says.
"I understand their point. But at the same time, if you go in their refrigerators, you'll see beer and wine. I think it's good to keep the streets clean, but I don't think this is the right thing."