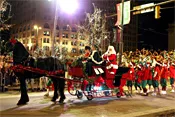 It's a funky way to get downtown Cleveland into the holiday mood. But hula-hoop contests compete for attention with Kris Kringle and his reindeer at today's
Winterfest 2007.
"This is a smorgasbord of everything to do with the holidays," says spokesman Josh Taylor of Downtown Cleveland Alliance.To say the least. In its 24th year, the fa-la-la-fest features a 6 p.m. parade of horse-drawn carriages around the square, followed by marching bands, ice sculptures, and free cookies and cocoa on every street corner. The city's legendary Mr. Jingeling will also usher in the holidays on his own animatronic float. For the kids, there will be a hula-hoop contest at the Hard Rock Café, shopping at Kringle's Toy Store in Tower City, and photo sessions with Santa at the Arcade. At 7:15, Ol' Saint Nick will turn on the juice to light up the city's official Christmas tree. "This kicks off the season: the lights, the parade, all the festivities at Public Square," says Taylor. "Every time you pass through downtown all lit up with those beautiful lights, it really gets you in the mood." Winterfest 2007 is from 10 a.m. to 10 p.m. today on Public Square. Admission is free. Call 216-736-7799 or visit
www.cleveland.com/winterfest
.
Sat., Nov. 24, 10 a.m.-10 p.m., 2007