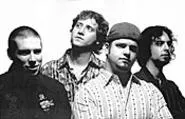 Freshwater Collins: 1, Hootie & the Blowfish: 0.
SAT 12/18
"We outdrew Hootie!" exclaims Justin Krol, drummer for Milwaukee-based Freshwater Collins, about his band's southeast tour of NASCAR tracks last summer. "Hootie & the Blowfish were playing on one of the other stages, and we outdrew them by several thousand people. It was a good night for us." The quartet -- a funk-pop hybrid with a penchant for jam-bandisms -- is putting the finishing touches on a new album it hopes to release in the spring. "This record really captures us," says Krol. "We're more of a live band than a studio band, but this comes the closest to capturing our live performances." Freshwater Collins opens for Norman Nardini at Wilbert's (812 Huron Road) at 9:30 p.m. Saturday. Tickets are $5; call 216-902-4663. -- Michael Gallucci
Pasty Fete
White is the color of choice at this holiday celebration.
SAT 12/18
It never fails. Whenever Jeremy Downing wears white, he spills something on himself. So it won't be tough to spot the Tri-C theater major at Saturday's White Christmas Party for holiday revelers clad in their finest white attire. "No matter how careful I think I am, I always end up wearing what I'm eating," laughs Downing. "I go through a lot of napkins."
And long lines. DJ'd by Spincycle, the ivoryfest is similar to one held every November at South Beach, where as many as 11,000 people plunk down up to $225 a night to hit more than a dozen club, pool, and beach parties over a five-day stretch. The Cleveland counterpart isn't as extravagant or pricey, but it's a good reason to break the outdated fashion rule against wearing white after Labor Day. "At least this isn't a summer cookout," says Downing. "With all the ketchup and mustard and barbecue sauce, I'd be a real mess." The party happens 9 p.m. to 4 a.m. at Club 34, 3400 Saint Clair Avenue. Admission is $5; call 216-322-2210. -- Cris Glaser
True Colors
Red Wanting Blue settles into distinction.
SAT 12/18
According to Red Wanting Blue leader Scott Terry, the band's fifth album, Pride: The Cold Lover, "is the first record we actually had time to make. We didn't rush through it." The moody pop group, which formed in 1996 in Athens, Ohio, used the extra studio time to play around with sound and style, says Terry. "The record isn't a complete branch off the rest of our stuff. It's just a little more mature. On the other records, we kinda hinted at going to where Pride just went." And fans have followed . . . to shows in Los Angeles and New York. "Isn't that crazy?" says Terry. "I wouldn't do that for anyone." Red Wanting Blue plays House of Blues (308 Euclid Avenue) at 10:15 p.m. Saturday. Tickets are $10; call 216-241-5555. -- Michael Gallucci