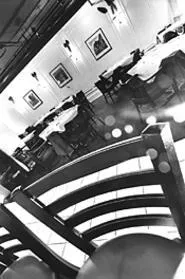 Big flavors and plenty of style more than make up for Osteria's modest size.
The anonymous phrasemaker who said, "Good things come in small packages" surely didn't have in mind
Osteria di Valerio & Al
. But the intimate little Warehouse District restaurant clearly illustrates the point. Open since June, Osteria (the name means "café") is the district's smallest upscale dining room, with no more than a dozen tables augmented by a compact black-marble-topped bar. But whatever the space may lack in square footage, it makes up for with big quotients of flavor and style.
Owners Valerio Iorio and Al Cefaratti made an inspired choice in hiring talented Michael Annadona to head up the kitchen and suave Marco Rossi to serve as head of the house. Annadona spent two years studying Italian cuisine in the Piedmont region of northern Italy prior to returning to Cleveland; before being tapped for the top spot at Osteria, he put his skills to work at Circo, One Walnut, and Lure Bistro. His food is rich, well seasoned, and often crafted from luxurious ingredients -- everything from white truffles to fresh rosemary, farm-raised rabbit to New Zealand lamb -- and he moves easily between time-honored and contemporary Italian preparations.
As for Rossi, he of the mellifluous accent and the firm handshake, the maître d' adds a European elegance to a dining room that already seems of another place and time. In the tradition of all the best cosmopolitan hideaways, Osteria's entrance is marked with only an inconspicuous oval sign, and visitors must step down, below street level, in order to locate the door. Then there is another short staircase to descend before guests find themselves in the spare black-and-white dining room, with its classical wood trim, flickering candles, and linen-topped tables. Soft lighting from alabaster-like wall sconces bounces off strategically placed mirrors. Two large streetside windows give a worm's-eye view of activities on the sidewalk. Bocelli, Sinatra, and Bing Crosby alternately resonate and purr across the sound system.
The small menu of antipasti, salads, soups, pastas, and meats is tucked into the back of the considerably larger, all-Italian wine list. The dinner options are enticing (dishes like zucchini flan with truffle oil and roasted red-pepper puree, tagliolini with a luscious Bolognese of veal and duck, and ossobucco in a natural vegetable reduction), but they are only the beginning. Rossi, or one of his staffers, will soon appear to reel off an equally interesting assortment of daily specials, including even more appetizers, salads, and entrées, many featuring fresh fish and seafood. Listen closely, lest you become overwhelmed, and don't hesitate to ask the prices for dishes that catch your fancy. Of course, ordering would be easier if the specials were put into writing, and it's hard to understand why they aren't.
Among the everyday starters, an ample antipasto platter (Fantasia e Svojature) was a standout, with savory grilled eggplant, zucchini, and portobello mushrooms; juicy ribbons of roasted red pepper; wedges of sharp Pecorino Romano and nutty Fontinella cheeses; glistening bocconcini; black and green olives; and sheer slices of sinfully rich soppressata, peppered salami, and prosciutto, all drizzled with a piquant fig-infused balsamic reduction. The platter was easily enough for four diners to share as an appetizer (perhaps with a bottle of Sangiovese) and, with the addition of the crusty Tuscan-style bread and cashew-honey-chive butter that accompanies all meals, could also double as a wonderfully rustic entrée for one.
Another appetizer -- translucent sheets of intensely flavorful air-cured beef, rosy-red and precisely arranged on a sturdy white earthenware platter, topped with wisps of shaved Reggiano Parmigiano and a drizzle of white truffle oil -- also had us murmuring with delight. This particular special was even more scrumptious when we paired it with stolen forkfuls of a companion's field greens salad, garnished with Belgian endive, Gorgonzola, and fat red raspberries: A bit of the slightly astringent greenery, rolled up inside a wafer of beef, added a marvelous contrast of texture and flavor.
Annadona uses a pleasing variety of pasta shapes in his dishes -- everything from delicate angel hair to sturdy disc-shaped orecchiette and plump cappelletti. Orecchiette with rapini -- spicy sliced sausage and Parmesan cheese in a simple, aromatic garlic-and-olive-oil sauce -- was earthy and straightforward. On the other hand, cheese-filled cappelletti tossed with generous amounts of shrimp (succulent) and lobster-claw meat (slightly dry) in a light lobster-and-tomato cream sauce was subtle and conceptually sophisticated.
The standard menu incorporates plenty of veal, a theme that carries through to the daily specials. We bypassed a tempting (and, at $34, expensive) grilled veal chop, as well as the saltimbocca and ossobucco from the regular menu, in favor of a special creation of three fork-tender veal medallions topped with buttery oyster mushrooms and plenty of shredded crabmeat, served in a shimmering, semitranslucent champagne sauce. The flavorful entrée was handsomely plated with roasted potatoes and slender wands of asparagus, and garnished with lemon wedges. And apparently we aren't the only ones who favored the veal dishes: We spotted Browns President Carmen Policy at a nearby table, tackling a hearty veal chop Milanese. Afterward, Policy and his party showed their appreciation by calling Annadona out onto the floor, where they gave him a round of applause.
Other delicious-sounding temptations included salmon with strawberries and champagne, filet mignon with peppercorns and porcini, and sautéed chicken breast with oyster mushrooms and Fontinella. Abbacchio Scottadito, a nine-bone rack of roasted New Zealand lamb, drizzled with fig-infused balsamic reduction, proved to be exceptionally tender and flavorful; a triangle of delicate baked polenta and more asparagus anchored the neatly arranged chops. And next time, we will certainly make space for the Coniglio Arrosto al Timo -- roasted rabbit with thyme and natural jus.
Light and fruity sweet endings seemed like just the thing after our robust meals, and Osteria did not disappoint. Remarkably smooth sorbets -- pineapple, orange, and lemon among them -- arrived attractively tucked into frozen "bowls" made from hollowed-out fruits. And a generous portion of fresh raspberries, blueberries, and sliced strawberries, tossed in a tongue-tingling syrup of sweetened balsamic, was a treat. Of course, we didn't turn up our noses at more voluptuous desserts, either. Housemade tiramisu was remarkably light-textured and refreshing. And cappuccino mousse, served in a tall glass coffee mug with a head of sambuca-flavored whipped cream, was indulgently rich; two bite-sized anise-flavored biscotti, on the side, made a charming grace note.
The affable presence of co-owner Cefaratti and headwaiter Rossi gives Osteria the warm feel of a neighborhood tavern, even at times when the service seems less than attentive. Somehow, having to wave down our waitress for coffee cream or waiting just a bit too long for the bill to arrive seemed less irksome than it might have in a less friendly setting. Still, it couldn't hurt for Rossi and Cefaratti to coach some of the dining room staff on the finer points of professional service -- especially considering the sophistication of the food and the not insignificant prices.
That said, however, Osteria is a place we would return to again and again. Trim and tasty, this little restaurant may be tiny, but it's a mighty addition to the downtown dining scene.