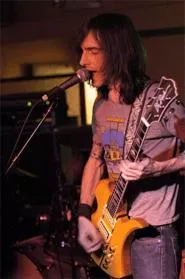 The Sword's JD Cronise, at the Beachland March 6.
Case Western Reserve University radio station
WRUW-FM 91.1
has announced the spring lineup for
Live From Cleveland
, an hour-long weekly showcase for local bands. After a 15-year run, the show went off the air in 2004, returning in late 2005. It now has a full schedule through July and plans to run year-round.
"I wanted to bring the show back, because it was one of the few chances for local talent to actually get on the local airwaves," says WRUW General Manager Tim O'Connor, a student who grew up listening to the show. "We've had some great bands booked, and our live mixes have sounded almost studio-quality."
Bands appear for an hour. Some play, some are interviewed between songs, and some stick around to spin music. WRUW records the entire session, posts it online at www.wruw.org for a week, adds it to its permanent music library, and gives the band a copy. Live From Cleveland booking coordinator Steve Barrett says that the station regularly receives numerous inquiries from listeners and other bands. Many of the acts use the recording as their first demo.
The show airs every Thursday at 10 p.m., and the station streams online. The spring schedule includes the Cleveland Heights Jazz Ensemble, roots rockers Doug McKean and the Stuntmen, and punkers the Jacknife Powerbombs. The show accepts submissions from Ohio bands and occasionally features an out-of-state group. Details are available at the website.
"Cleveland has a lot of great new bands, and people don't know about them," says Salem. "It's a great way to get turned on to new bands. We have a good, diverse scene. Every genre has standouts."
· Keith Hanna -- bassist for the late, great Rosavelt -- has joined Shurman, a band of L.A. roots rockers whose recent accolades include a spotlight in Billboard magazine. Shurman plays the Beachland Tavern (15711 Waterloo Road) Saturday, March 18.
· The West Shore Unitarian Universalist Church (20401 Hilliard Boulevard in Rocky River) has turned its newly remodeled sanctuary into a concert venue, Uncle Waldo's Coffee House. The space will host smoke-free acoustic shows by visiting national songwriters, beginning with a set Saturday, March 18, by Kyler England and Adrianne.
· Singer-songwriter Joe Rohan is touring Sweden and Finland in late March.
· Following the Cult's Saturday, March 18 concert at House of Blues (308 Euclid Avenue), the show will be available immediately on CD and via Napster, as part of Live Nation's (formerly Clear Channel) Instant Live program. The set is scheduled to include acoustic numbers and, thankfully, no Doors songs.
· Dead Even, voted Cleveland's best metal band by Scene readers, is working on a split CD with Michigan neo-thrash band Dissonance. Titled How to Start a Riot, the disc will feature three songs from each band and is set for release later this month. Only 500 copies will be pressed. DE recorded its tracks with Cole Martinez (Years of Fire, Audiblethread). Singer J.C. Koszewski says that the band has written its second album and plans to start recording soon.
· Cobra Verde will appear on Fox's The O.C. Thursday, March 16, performing a newly recorded version of Foreigner's "Waiting for a Girl Like You."