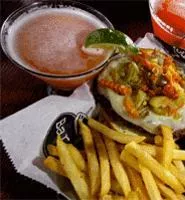 Blue Louie, a very good excuse to drink beer.
In the last decade or so, Cleveland has grown into a great little dining town, with contemporary bistros, sassy menus, and nationally recognized chefs. But among even the most finicky foodies, you'll find a remnant of our blue-collar past: a deep appreciation of the venerable neighborhood tavern, and a soft spot for a great burger and beer.
Not that we expected Bar Louie -- the Chicago chain that entered tony Legacy Place in May -- to serve up perch, Pabst, and pierogies. This was a high-class joint, where Cleveland's quirkier culinary traditions stood no chance of making the cut. But on the other hand, coming from a region that has sprouted such first-class taverns as the Grovewood, the Parkview, and Brennan's Colony, there was reason to anticipate warm ambiance, a well-stocked bar, and grub that exceeded its basic obligation to sop up the booze.
We were about half right.
In the course of two visits, we discovered a mostly nondescript decor, enlivened by friendly, attractive staffers; a bustling bar, best known for its boutique beers and sweet, well-endowed cocktails; and food that . . . well, let's just say there's a reason why Bar Louie is most famous for its bustling bar scene.
Despite a far-ranging, all-day menu featuring everything from burgers and Philly cheesesteaks to Thai beef salad and a hummus platter, Louie's heart clearly belongs to the long list of fruity, $8 libations -- the Pom Pêche, the Strawberry Fizz, and the Honeydew among them. The most economical time to explore the possibilities is during weeknight happy hours, from 5 to 7, when prices on selected cocktails dip to $5 and draft beers go for two bucks. (On Tuesdays, that includes Great Lakes Brewing Company's Dortmunder Gold.)
Best of all, when it comes to pouring on the active ingredients, the bartenders prove as generous as they are good-looking. A happy-hour Pom Pêche, with Sprite, OJ, passion fruit juice, pomegranate syrup, and Absolut Apeach was about as good a use for five bucks as you'll ever find in an upscale watering hole.
Along with late-night hours, loud music, plenty of plasma TVs, and the "something for everyone" menu, those mighty cocktails draw a decidedly eclectic crowd -- from shoppers and families to well-dressed singles, prowling for a good time. Still, if the oversized, sepia-toned photos that line the walls are any indication, Louie's target audience consists of beautiful twentysomethings. The photos' pouty-lipped models, shown smoking, drinking, and generally messing around, constitute Louie's primary decorative statement.
So maybe it's no surprise that Louie's grub, while reasonably priced, is far less interesting than its bar scene. Not that anything was awful or unwholesome, but nothing was especially memorable either.
Among the best is the Blue Louie, a thick, tender, but slightly dry Black Angus burger, topped with pickles, raw spinach leaves, two slices of bacon, a dusting of blue cheese crumbles, and a dab of fiery buffalo-wing sauce for a major blast of salt and savor. Like all the kitchen's burgers (including a turkey version and a veggie burger), the sandwich came with slender, crisp French fries (frozen, but tasty) and cayenne-piqued coleslaw.
Among the worst options would be the fish tacos, a remarkably bland pairing of mild grilled catfish and limp flour tortillas, garnished by some peppery shredded cabbage and a bit of understated chipotle mayo. Also on the plate was a very sweet mango-tomato salsa and average guacamole. Likewise, a side serving of dully seasoned black beans and rice proved listless beyond resuscitation.
Then there was the Vesuvio Melt. Explosive imagery notwithstanding, the sandwich proved mainly a dud. Maybe it would have been better if the kitchen hadn't neglected to add the promised provolone and olive oil. As it was, a few strips of grilled chicken, a stingy slather of mayo, and lots of shredded lettuce on a big, sub-style bun made for dreary noshing. To her credit, our attentive server noticed we had hardly touched the thing, and asked if it was all right. When we noted the absent cheese and generally lifeless flavors, she took it off our tab.
On the other hand, a quartet of mini Philly steak sliders and an ample portion of golden onion rings (also frozen) offered plenty of sodium-charged flavor; unfortunately, they were also plenty greasy, leaving our lips feeling as if we'd been test subjects in a ChapStick lab.
Most of the other dishes we sampled fell squarely in the middle -- neither delicious nor too dull to eat. That includes Louie's Mac & Cheese, a generous portion of al dente fusilli, shellacked with a sleek, cheesy sauce; the hummus, tabbouleh, and tzatziki platter, served with wedges of plump, fresh pita and crunchy cucumber; and the Santorini salad, a cool toss of spinach, feta, olives, tomato, and pepperoncini in an oregano vinaigrette. All entirely decent, all mostly forgettable.
And so the next time we're craving tavern food, Bar Louie won't likely spring to mind. But when we're looking for a happenin' happy hour, you may well find us here.