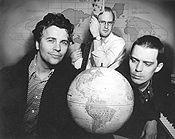 Earth conquered, Wayne Coyne and the Flaming Lips look for new worlds to invade.
Flaming Lips singer/guitarist Wayne Coyne is in a phone booth outside a small club in Memphis, explaining the highfalutin concept behind "What Is the Light," a track off the new Lips release The Soft Bulletin. The song explores the possibility that the chemical in our brains that compels us to fall in love is actually a small fragment of the entity that caused the Big Bang, and thus the birth of the accelerating universe. Gnarly stuff, this.
Coyne suddenly pauses, laughs. "You know, it's hazardous doing an interview in front of the club," he remarks. "People keep dropping by. I have a note now that says, "Please play "Christmas at the Zoo."'"
He laughs again. "I'll do the best I can!" he shouts after the anonymous fan.
Welcome to the double life of the Flaming Lips, a band endlessly straddling the line between science fiction-tinged social commentary and screwball humor. The band is best known for its unlikely hit "She Don't Use Jelly" (from the 1993 release Transmissions From the Satellite Heart), a slightly off-key rumination on those who butter their toast with Vaseline and remind you of Cher. "Christmas at the Zoo" (from 1995's Clouds Taste Metallic), meanwhile, details Coyne's attempt to break into the zoo and free all the animals, who prefer to stay in their cages.
These two previous Lips incarnations bear little resemblance to the band (also featuring Stephen Drozd on drums and Michael Ivins on bass) embodied on The Soft Bulletin, a lush, piano-heavy, pseudo-concept album already hailed by some critics as album of the year (yes, in August). While past releases had a four-track, guitar-oriented feel, Bulletin pulls out the orchestration, the vocal harmonies, the harp, the bitchin' drum effects. In lieu of further zoo misadventures, the lyrics have also snapped to attention. The album's themes, as presented by Coyne: "Love, death, and the conquering power of optimism."
Can Lips fans swallow this one, or has the band finally thrown too big a curveball? "A lot of people who have liked us for a long time, they're the ones who I thought wouldn't accept this record," Coyne admits. "I don't readily assume that people should like us for any other reason than the way our records sound, and when records sound so different . . . I would never be presumptuous enough to think, Oh, they'll like what I do, regardless."
Blind ambition and fearless sonic experimentation drive the band. Didn't 1995 watch these clowns release Zaireeka, a four-CD collection intended to be played on four different stereos simultaneously? Won't the people willing to contend with that contend with anything? Obviously, Coyne embraces randomness and eclecticism, which makes his band worth contending with in the first place. The Soft Bulletin continues this rich tradition and ultimately serves as the pinnacle of the band's career. As for Coyne, he keeps his comments fairly neutral: "I feel that once again we've escaped from the jaws of mediocrity."
Actually, Coyne adopts several methods to avoid those jaws. In addition to the four-stereo madness of Zaireeka, Coyne has conducted elaborate parking lot experiments, attempting the same synchronized stunt with twenty car stereos. Basically, this involves hiring twenty yahoos with Yugos to pop in a tape and press play at the exact same time. Coyne then walks among the cars, adjusting volume levels, bass, what have you. A warped sort of symphonic explosion results.
Still following? Now comes the phenomenon known as "Headphone Concerts," a concept Coyne concocted to augment live gigs. Here, members of the audience receive headphones for that intimate bedroom feel — wireless, of course — permitting the lucky fans to roam about the club, enjoying the clarity of perfect Lips stereo sound. If you perchance meet Coyne one day, he will be happy to explain the technical aspects of this project, or you can just request "Christmas at the Zoo" and run away.
Either way, this guy is nuts.
And he knows it. "When a person is considered "unstable,' he or she is able to do things that would otherwise be deemed stupid and get away with it," Coyne explains in the striking, self-penned manifesto that serves as Bulletin's press release. And how much does this principle apply to you, Wayne? "Well, I think it's applied plenty to most artists of that category, and I think it still does."
And what category is that? "Well, the category of being a drug-damaged mad freak."
Many fans and critics have embraced the mad freak side of the equation, goading and daring Coyne to top himself. "When I did promotional interviews for Zaireeka, people would say, "Oh, Wayne, what's next, ten CDs?'" Coyne says. "But I don't think in those ways. I don't think of it necessarily as trying to top myself, like a circus guy or Evel Knievel — you jumped ten cars, now you have to jump twenty."
He pauses, savoring the image. "I'm truly just doin' what I like, really, and I am lucky that people look at these things as being ambitious or whatever, but if I am ambitious, it's only because I'm doin' what I like. I just wake up and think of things and do them, as opposed to wishing someone did them and sitting around."
Coyne obviously doesn't do too much sitting around. Currently the Lips have masterminded the International Music Against Brain Degeneration Revue, using the talents of indie-rock starlets (Sebadoh), revered guitar troubadours (Robyn Hitchcock), Japanese producer prodigies (Cornelius), and mysteriously named opening bands (ICQ, pronounced "ickoo"). The circus hits the Agora this Sunday. Bring your headphones. Bring your car stereo. Bring your conquering power of optimism. Bring whatever you deem necessary to goad the Flaming Lips onward, to new ideas and tour-de-force albums and elaborate concepts.
What's next? Ten CDs?