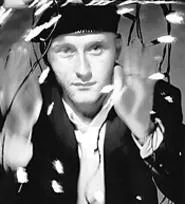 Blurred Image: Jah Wobble, Deep Spacing out.
Before Johnny "Rotten" Lydon tapped him to play in Public Image Ltd., John Wardle sold cheese in a street market and worked as a laborer. He and Lydon were friends "from before the punk thing started," so when Lydon needed a bassist, he called upon Wardle, who eventually was christened "Jah Wobble."
"People tell me Sid Vicious [came up with the name]," Wardle says. "I thought it was John, but people say, 'No, it was Sid, one drunken night.' But I'm a big reggae fan, and I said, 'I like that name, I'm going to keep that name.'"
With PIL, Wardle made a significant impact, particularly on Metal Box, a three-record set the group released in a film canister in 1979. Its trademark, a cavernous sound defined by the overtones of Wardle's whiplash bass and Keith Levene's skronky guitar, simply doesn't translate to CD -- it sounds better on vinyl. Released, sans metal canister, as Second Edition a year later in the U.S., Box is a good reason to keep your record player. Or to buy one, particularly if you can find a copy of the out-of-print set.
Wardle did one more record with PIL, 1980's Paris au Printemps, before leaving the band after he had a falling out with Lydon and Levene.
"Basically, I left because there wasn't a reason to stay anymore," he says evasively. "You get to the point where you feel there's nothing right. [There were] bad personal relationships in the group and probably, maybe, some kind of musical differences. But they were lower down on the list. It wasn't a problem for me at the time, and it's not a problem now. I'm very grateful for Public Image, because that was how I started to play music."
These days, Wardle is making many different kinds of noise, from the spacey dub reggae he concocts with fellow bass player/soundshaper Bill Laswell to his forays into improvisatory, symphonic pop with the bands Deep Space and Invaders of the Heart.
"We play, sometimes, for two hours, three hours nonstop, and it's very full-on, very heavy," he says. "It's very, very hypnotic. It puts you in a trance. It's very modal." Wardle will briefly tour the States this month with Deep Space, which includes Clive Bell on wind instruments, Mark Sanders on drums, and Jean Pierre Rasle on "bagpipes and early instruments" such as the krummhorn (a Renaissance instrument) and the rauschpfeife, which translates to "intoxication whistle." Deep Space is behind several CDs Wardle has released on his own 30 Hertz label (www.30hertzrecords.com), including this year's two-CD Largely Live in Hartlepool & Manchester. Fitting Wardle's description, it's impressive, long, and hypnotic.
"It seems like I have to make records in a couple of days now," says Wardle, who has released "16 or 17 albums" since 1997. "I'm actually spending less time in the studio than I was in the past few years. I can't pretend I'm always working, but I make a lot of albums." In addition to working with Deep Space and Invaders of the Heart, Wardle records with a variety of musicians, including Evan Parker (a British saxophonist known for circular breathing and an affinity for John Coltrane), symphony orchestras, musicians in Laos, dub specialists, and classical European musicians. His résumé includes collaborations with Can drummer Jaki Leibezeit and Can bassist Holger Czukay, U2 guitarist the Edge, Sinead O'Connor, and Primal Scream.
"It's all been a journey, where you're discovering certain things and changing all the time," Wardle says of his various projects. "There's an old saying that mighty redwoods do not grow in each other's shadow. So I'm probably not the best person to be in a group all the time -- unless I'm the boss. I always say to most musicians and artists that, by the time they hit their 30s, if they're bogged down and lost when they're working on a project, they should try being a little more artisan. A baker doesn't suddenly decide that the whole day's loaves are no good and leave them. Hopefully, we reach a point where we can always give our best. If you know what you're doing, you can make good music without lots of fuss and bother."
That's certainly Wardle's case. Not only has he written a requiem mass (released under his own name on 30 Hertz), but the Liverpool Philharmonic Orchestra also commissioned him to write a piece for the Chinese ku cheng harp. Wardle enjoyed the project, but found it challenging, "because the Chinese harp is pentatonic, with five notes," he says.
In the States, Wardle recently released Radioaxiom, a collaboration with Laswell, who's well known as a producer, remixer, and bassist. "Bill is my favorite person to work with," Wardle says. "He's very easy. There's no bullshit. He knows what he's doing. He's very, very dedicated to the music. You don't have to talk a lot. To be honest, with this record, the whole thing was an excuse to go to work with Bill and hang out in New York and have some fun for a week."
Despite his long list of collaborations and studio efforts, playing music may not be much more lucrative for Wardle than selling cheese at the local market. But in the end, it's more satisfying.
"Maybe next year I won't make a living," says Wardle, who lives in Manchester, England, with his second wife and four kids, two from his first marriage. "Up to now, it's a miracle I've made a living, but I've managed it. I figure the music business has probably shortchanged me by half a million bucks, but I'm sure they'll pick up the tab at some point. I don't have any worries. I'm happy. [When I play] I forget who I am and I forget where I am. It's that state at the point of orgasm where you forget who you are. You just merge. It's a form of yoga, in a way. It's very loving, very warm, very relaxed."