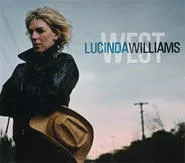 Generally regarded as a Grammy-winning singer-songwriter who crafts sweet-and-spicy country-rock, Lucinda Williams here offers a collection of bleak blues ballads spawned by both the recent death of her mother and the southerner's tumultuous romantic life.
One side is full of sarcastic and slow garage-rock tunes like "Wrap My Head Around That," where Williams sounds like PJ Harvey backed by squealing guitars and organs, angrily pleading "You told me you loved me." The flip side features such soulful folk redeemers as "Rescue" and "Words," where pianos, marimbas, and accordions lend wings to lyrics her father -- famous poet Miller Williams -- might have written: "I would rather suffer in sweet, silent solitude/Deathly defiant from drowning out/Filthy sounds stumbling, ugly and crude/Between the lips of your beautiful mouth."
This unlucky 13-song set burns slowly and caustically. And maybe it's too dark for fans who dig the pop of 2001's Essence, but its intense, cathartic themes balance themselves out with plenty of sappy moments (see "Mama You Sweet"). Overall, though, Williams follows in the footsteps of Robert Johnson: releasing her demons into the musical mythos of great gloomy blues.