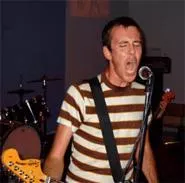 This Moment in Black History singer Chris Kulcsar must share an ancestor with the Tasmanian devil.
How else to explain the manic jitters and spasms that accompany his singing -- a kind of anguished yelp that becomes another screeching vehicle in This Moment's sonic pileup?
The quartet's taut, careening rumble always makes a big impression. But for the Music Saves second-anniversary show two weeks ago, Kulcsar is even more destructive than usual. At one point, he takes out one of the Beachland Tavern's ceiling panels with a flailing arm during a leaping/screaming/ writhing fit.
"If I wasn't stupid, I wouldn't have a place in this band," Kulcsar announces. Then the band blitzes into its next tune, "White Teeth." Again Kulcsar goes flying around the stage, mic in hand, as his bandmates nervously edge away from him.
This Moment's beefy bottom end, crunchy shards of guitar, and wavering blasts of color from Kulcsar's cheap Radio Shack keyboard all contribute to a persuasive ugliness that's hard to look away from. The 40-minute set is almost exhausting to watch.
But Kulcsar is indefatigable. Hours later, across town at The Church in Tremont, Kulcsar performs a final show with his other band, Neil Blender. Blender works a shoegazing drone, with a spiky, late-'80s guitar style that recalls the distorted throb of Swirlies or Dinosaur Jr., cut with the rhythmic swivel of Archers of Loaf.
The little art/performance space is a cozy fit for the 50 or so who turn out to bid farewell to the popular local band, but this only amplifies the energy of Blender's performance. With a guitar in hand, Kulcsar is no less menacing, turning his back to the audience, then bounding back at the mic as if he's about to give it a head butt, like French soccer player Zinedine Zidane.
This is the guy that Supernova needs.