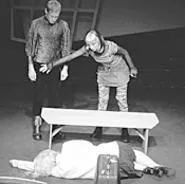 Brian Breth, Amy Bistock, and Sheila O'Toole (floor), in a pivotal scene from "Whirligig."
In its short but stellar existence on the Cleveland theater scene, Tremont's Convergence-Continuum company has forged a reputation for presenting quirky, thought-provoking, and satisfyingly oblique works that other groups wouldn't dare touch. Of course, when you're working on that particular ledge, it's always easy to slip off. In their current production of two one-acts -- one a tightly crafted character snapshot and the other an ungainly, juvenile exercise in vapidity -- both ends of risk-taking theater are on display.
The evening, titled Words & Weirds, leads off with "Tone Clusters," by acclaimed novelist and short-story writer Joyce Carol Oates. A master at exposing the slimy underbelly of small-town U.S.A., Oates has created a true portrait of suburban "American Gothic," in which all that's missing is a leaf rake (instead of a pitchfork) held firmly in hand. The rigid staging even mimics that famous Grant Wood painting: Desperately normal Frank Gulick and his wife, Emily, sit facing the audience as they're interviewed by an unseen voice, which apparently belongs to the reporter for an Inside Edition type of TV sleazefest. As the two attempt to field questions both mundane and profound, we learn that their 22-year-old son, Carl, has been arrested for the murder of a teenage neighbor girl, whose body was found tucked behind the boiler in the Gulicks' basement.
Under the direction of Douglas H. Snyder, Clyde Simon and Lucy Bredeson-Smith are as taut and uneasy as Dick Cheney's smile, nervously glancing at each other and squirming under the scrutiny of their community and the world beyond. Bredeson-Smith is particularly effective in conveying the uncomprehending agony of a woman whose son might have committed an unspeakable act. She can't quite understand how their lives are being reprocessed by a media machine that is adept at taking sordid circumstantial evidence and turning it into a slam-dunk determination of guilt. At one point she says, "It's not that the newspapers lie; they just get everything wrong."
Simon is an ideal counterpoint to Bredeson-Smith, affecting a dry and shallow laugh to fend off the interlocutor's questions, which probe into the family's very identity. As the Q&A goes on, we see how average people's lives can be distorted by events out of their control. Eventually the interview takes its toll, and the Gulicks begin to softly collapse.
These two performances are so finely calibrated, they succeed in overcoming an unnecessary staging gimmick (a video simulcast of the actors' faces intrudes more than it enhances) and a pedestrian, overamplified reading of the interviewer's queries by Brian Breth. And while we never learn the truth behind the tragedy, that was never really the point to begin with.
In the second piece, "Whirligig," by Mac Wellman, a green-haired punkette runaway meets a space-alien dude at an interstellar bus stop, where they are visited by a bus driver and three versions of the girl's tight-ass preppy sister. In the past, Convergence-Continuum has taken Wellman's anarchic, impulsive dialogue and turned it into exhilarating theater. But here, the playwright's trademark word games -- including free associations and alliterative avalanches -- amount to nothing more than grimly determined verbal masturbation.
There are no relationships to care about, and the only real conflict -- between the girl (sharply observed by Amy Bistok) and her sister(s) -- is abruptly concluded when one commands "Drop dead!" and the other does. But they don't really die, because they're actually Girl Huns, feared outriders of the universe, who -- oh, never mind. Even when certain lines have a sprightly offbeat resonance (the sister complains that her rebellious sibling has "tarnished the national flatware"), the meandering story never goes anywhere. Unfortunately, Brian Breth delivers his second banal performance of the night as the alien Xuthus, creating the galaxy's most tedious extraterrestrial and eliminating any chance for sparks to ignite between him and the girl.
Director Clyde Simon evidently poured all his energy into his role in the first play and had little left over to deal with this mess. Still, the performances in the first show make it worth a jaunt to Scranton Road.