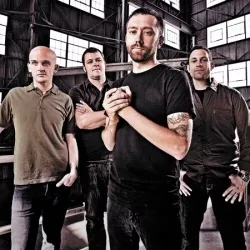 The guys in the politically oriented punk band Rise Against remember where and when they were when they heard the results of the last presidential election. They were on tour with Bad Religion, another act that wears its lefty impulses on its sleeve, and had just finished playing a show in Toronto when they got word that they were looking at four more years of George W. Bush.
"It was a sad night of the tour," says singer Tim McIlrath via phone from his Chicago home. "Nobody was partying too hard. We picked up the pieces and went forward. It made me realize this message of punk is timeless and will always be there, no matter who is in office. It was a big 'fuck you' when you go out there and vote, and then you find out that you live in a country that doesn't give a shit about your vote. It's been a huge lesson to a lot of kids about this country. I forget that this is a lot of kids' first introduction to politics and government, and look at what a crazy administration they've been born into. All previous administrations have seemed so docile compared to what's going on now. It's created a generation of kids who are really interested in knowing what's going on."
As you can imagine, the group is excited to be touring again during an election year. Its current tour, which pairs it with like-minded acts Alkaline Trio, Thrice and the Gaslight Anthem, commences here in Cleveland and runs through November.
"It should be interesting," McIlrath says of touring during a presidential election year. "We were hoping to get our record out much sooner to do a voter registration tour. Unfortunately, that didn't happen."
Appeal to Reason, the band's latest album, is yet another call-to-arms. It begins with the urgent call-and-response of "Collapse (Post-Amerika)" and then delivers a good balance of moody ballads ("Long Forgotten Sons") and bristling rockers ("Kotov Syndrome"). The standout is "From Heads Unworthy," an emotional tour de force that finds McIlrath singing with more compassion than ever.
"Ever since our first record, we've done music all over the board," says McIlrath. "We've never really painted ourselves into a corner. We've always done pop songs and hardcore songs, fast songs and slow songs. It's a fun band to play in. We love all kind of music. I love Elliott Smith as much as I love Killswitch Engage. It's fun to get those influences into each song." It's been about 10 years since Rise Against formed in its native Chicago and seven since it delivered its Fat Wreck Chords debut. In that time, much has changed. The band now plays mid-sized venues and records for a major label. McIlrath says the guys haven't forgotten what first inspired them.
"I think this band was a product of the Chicago scene in a number of ways," he says. "We grew up in the punk and hardcore scenes there. Chicago was also still prevalent as the infamous indie-rock scene. We were a response to all those things. The hardcore community got it right with politics and activism, with shows that were not just about paying $5 to get entertained, but also about setting up tables and feeding homeless and conflicts overseas. They got it wrong with the violence and elitism and how dark and gloomy those bands could be. The indie rock bands got it right with music. But it got it wrong with people going to shows and staring at their feet and bopping their heads and sipping a beer. It turned into an elitist, cynical, hipster thing."
McIlrath says the group started because he simply "wanted to go to a show where it isn't all doom and gloom." To that extent, the band looked back to formative punk acts such as Bad Religion and Dead Kennedys, bands that found inspiration in questioning the status quo. The new album's title, Appeal to Reason, is something Rise Against lifted from a socialist paper and suggests the extent to which the band embraces liberal ideals.
"We think of socialism as such a crazy, radical idea," says McIlrath. "People look at this band and think Rise Against is a political band that's controversial and does radical things. I don't see anything radical about what we do. Only in a world turned this upside-down could asking people to be fair to each other and singing songs about it be considered radical or controversial."
Yet, how critical of the establishment can a band be if it plays the very corporate Warped Tour?
"It can be a difficult thing to reconcile sometimes," admits McIlrath. "There are certain corporations we want nothing to do with. We see the corporate-sponsored shows as a way to sort of be the wolf in sheep's clothing, to get on that stage, where all you care about it is what you put in front of them. I feel like we've been sent there to say this festival isn't about this banner behind us or what cell phone you buy tomorrow. It's about this music. I'm glad there's at least one of us saying that. We learned so much from the old punk-rock scene. Somebody gave us the torch and said, 'Here. You're the punk guys out there and do it right and represent it right.' The second we don't, the torch will be taken away from us."
jniesel@clevescene.com