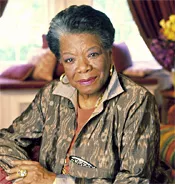 As one of Oprah Winfrey's spiritual advisers,
Maya Angelou
has been heralded as her generation's messenger of inspiration, courage, and survival. Celebrating her 80th birthday this year, the author of the acclaimed 1970 autobiography
I Know Why the Caged Bird Sings
will wax nostalgic about her career as a poet and playwright, tonight at Playhouse Square. Not that she needs any practice. On the lecture circuit since the early '90s, Angelou has made an average of 80 public appearances each year. Insiders also say she charges $43,000 for every speech. Now
that's
inspiration. Angelou takes the stage at 7:30 tonight at the Allen Theatre, 1407 Euclid Avenue. Tickets are $36 to $86. Call 216-241-6000 or visit
www.playhousesquare.com
.
Mon., May 12, 7:30 p.m., 2008