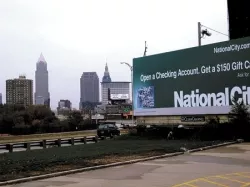 National City Bank shows up quite a bit in arts events around town. Flip through the programs, and you'll see the bank's advertisements almost as frequently as you see them on billboards around town. NCB made a major gift to the Cleveland Museum of Art's expansion and underwrote the current season for Opera Cleveland. It's the season sponsor for Dance Cleveland and the Great Lakes Theatre Festival, and it made a major gift to the latter's renovation of the Hannah Theatre. The bank has also been a regular supporter of Cleveland Public Theatre and a slew of other organizations, and until its purchase, it was one of the last corporate pillars standing in a region where the people depend on the arts to keep spirits up, and where the arts depend on corporations to keep their bottom lines from falling too far down. But with the recent sale of National City to Pittsburgh-based PNC, what is to become of the perennial source of sponsorship?
PNC spokesperson Brian Goerke refers to corporate giving and community relations as "a core competency" of PNC and "part of the values of the organization." He notes that PNC CEO Jim Rohr served on the board of the Pittsburgh Cultural Trust - an arts presenter and downtown revitalization organization similar to the PlayhouseSquare Foundation - for more than 10 years. "He's a strong believer in the arts," says Goerke.
He adds that after a couple of other recent acquisitions - Riggs Bank in Washington, DC in 2005 and Mercantile Bankshares in Baltimore in 2007 - PNC's level of corporate giving exceeded that of the banks it had acquired in their headquartered cities. Even if that holds true in Cleveland, it may not play well for arts organizations, since different banks have different priorities for how and where they make their gifts.
PNC's "signature cause" is early childhood education, says Goerke. The bank has committed $100 million over 10 years, working with Headstart organizations and partnering with the Children's Television Workshop, producers of Sesame Street.
As examples of arts support in other cities where PNC has purchased banks, Goerke says when the bank acquired Mercantile Bankshares, PNC targeted a gift of $1 million over five years at lowering the cost of subscription to the Baltimore Symphony. When the bank acquired Riggs Bank, it sponsored an exhibit of 200 works from the Pittsburgh-based Warhol Museum at the Corcoran Gallery of Art in Washington DC. In 1998, PNC bought naming rights to the former Garden State Arts Center, in Holmden, New Jersey. The bank is a regular sponsor of events in its headquarter city, including the Pittsburgh Symphony's PNC Pops series.
Goerke hints at a significant announcement directly related to corporate funding of arts organizations in Cleveland that will be made public this week. Whatever that announcement may be, it's likely that for at least a brief introductory period, the bank will be looking for ways to make a favorable impression in Cleveland.
"There are a lot of commodity products in banking," says Goerke. "The bank that gets the business is the one that's out in the community, that is known and has relationships. We certainly try and be one of the leaders as it relates to community involvement."
But bank customers know the drill all too well: After that introductory period of interest expires, time will tell.