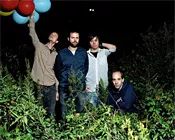 Mussels
drummer Brody Boyer admits it's the first time he's ever been in a band that "had its shit together." To say the least. The quartet is on its first national tour, which included a stop at Austin's SXSW music festival last week. They've also released their self-produced and hand-numbered CD,
Little Voices
. "It has a lot of diversity," says Boyer. "From poppy songs to darker songs, we wanted it to feel like the same band throughout." The Mussels go onstage at 9 tonight at the Davenport, 6287 Pearl Road in Parma Heights. Call 440-545-2225 or visit
www.myspace.com/davenportbar
.
Sat., March 22, 9 p.m., 2008