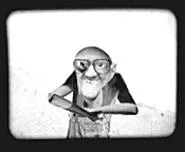 One of the animated fellas you'll see at Saturday's Standing Rock Short Film & Video Festival.
SAT 1/22
As Jeff Ingram screened more than 20 entries for the second Standing Rock Short Film & Video Festival, he noticed a common theme: Most were heavy on animation. "The editing programs they have available are making for a lot of cool experiments," says Ingram, the festival's director. "It's not quick and easy, but it's visually appealing. More bang for the buck."
The 13 Super 8's, 16-millimeters, and DVDs that made the cut range in length from 3 to 16 minutes and were produced as far away as California, Rhode Island . . . even Italy. Says Ingram about the Italian flick: "It's about this woman who's going through her daily life. When she walks, the background around her changes. She becomes these different personas, from a peace-marcher to a soldier."
Closer to home, Kent filmmaker Vince Packard constructed a set of mannequins for his music video. "He built these dolls, animated them, and styled them after Alice in Wonderland," says Ingram. "This is all about the thrill of seeing something that's original and will inspire creativity in others' filmmaking." The fest is at 8 p.m. Saturday at the Kent Stage, 175 East Main Street in Kent. Tickets are $10, $7 for students; call 330-673-4970. -- Cris Glaser
Marathon Man
Running, New Age style.
TUE 1/25
"I'm just a human-potential barometer," says Tony Sigmund, a self-proclaimed extreme-endurance athlete, who takes a holistic approach to his relentless marathon running. "I've removed the limitations of my body with my mind. Obviously, no one can jump off the Empire State Building and expect to walk away, but we have unlimited potential." At Tuesday's Marathon Mind program, the Lakewood resident will share the training techniques that have gotten him through dozens of marathons, including Boston's, Indianapolis's, and Cleveland's . . . which he once ran twice in one day. "I save myself for [competitions]," he says, adding that he typically runs 25 miles each week. "But I want people to know it's not just about running. [It's also about] noninvasive, hands-on ancient healing and stress management." Sigmund discusses marathons and more from 7 to 9 p.m. at Lakewood Public Library, 15425 Detroit Avenue in Lakewood. Admission is free. Call 216-226-8275 for more information. -- Lucy McKernan
Bourgeois Blues
Riverwood's bands play to both rich and poor folks.
1/22-1/23
Like any seasoned Cleveland blues band, the Cletus Black Revue (pictured) has played Blues at the Riverwood. Sometimes, co-owner Jim Simons gives a novice a chance. When Joe Bell & the Swing Lizards were starting out, the band's frontman was an executive-in-training for his family's Bonne Bell cosmetics empire. "The first time he played here, it was a winter night," recalls Simons. "And all the Bonne Bell people walked in with their diamonds and full-length mink coats. And the dad comes up and says, 'That's my boy.'" The blues start at 9:30 p.m. Friday (with Cletus Black) and Saturday (with Major Lingo) at the Riverwood Café, 18500 Detroit Avenue in Lakewood. Admission is free; call 216-521-1529. -- Cris Glaser
Twist of Faith
MON 1/24
Madonna and Britney Spears both study the Kabbalah. But don't let that stop you from checking out Men, Women & Kabbalah: Wisdom and Advice From the Masters, where you can learn all about the Hebrew-based spiritual movement and its ultra-chic red-string bracelet. The eight-week class starts Monday at 7 p.m. at Mandel JCC, 26001 South Woodland Road in Beachwood. Fee is $80; call 216-381-4736. -- Michael Gallucci