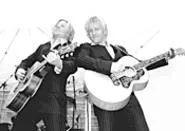 Nelson: Two hits and a career full of misses
Despite a direct Ozzie connection, Nelson is the 12th-least metal band in the history of heavy metal, according to VH1's Least Metal Moments, which attributes the dubious distinction not only to the band's hits like "(Can't Live Without Your) Love and Affection" and "After the Rain," but to its very existence. Jazz musician Ozzie Nelson begat Rick Nelson, and in the 1950s they both starred in the Ozzie & Harriet television show. Rick became an early pop icon, singing hits such as "Lonesome Town," which resurfaced on the Pulp Fiction soundtrack. The rockabilly ballad is four times heavier than anything from Rick's twin sons, Gunnar and Matthew, who have actually had a fairly long run, despite their status as two-hit wonders.
Nelson's flash in the pan was its self-titled 1990 debut, which went platinum and continues to earn the brothers notoriety. VH1 ranked the band's nonmetalness between Paul Stanley singing in a production of Phantom of the Opera and Gary Cherone stepping in as Van Halen's frontman. Granted, Nelson technically wasn't a hair-metal act -- the brothers' flowing blond manes weren't poofy and teased, but apparently ironed flat. Oblivious to naysayers, however, the band has recorded another six albums, each certified aluminum -- both in terms of copies sold and relative weight.