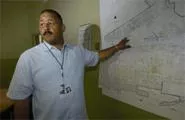 Santiago dreams of revitalizing his ward, while residents fear being displaced by yuppies.
Councilman Joe Santiago shuffles into his muggy office off Clark Avenue, carrying a file full of hate mail.
The burly 40-year-old empties an envelope that contains only a red cloth napkin. He holds it up between his index finger and thumb before lightly tossing it aside. "I think they're trying to tell me I've been tagged for a hit," Santiago says.
From other envelopes pour vitriol accusing him of being a liar and a thief. One letter suggests that he consider suicide. "They're testing me, because I'm the new guy," Santiago says of his constituents. "Fine, test me. I've got more important things to do than fight with a group of psychos."
It's been only seven months since he assumed leadership of Ward 14, which includes touches of Tremont and Ohio City, stretching to West 48th. It hasn't been easy.
Santiago beat incumbent Nelson Cintron by a mere 118 votes -- though Cintron had spent the previous eight years dancing around accusations of wife-beating, loan fraud, and owning a bar best known for drug-dealing.
And the victory only left a greater challenge. "I've inherited a mess," Santiago says.
Beyond the revitalization of Tremont and Ohio City, the heart of his ward is a shell of littered streets, more than 500 abandoned houses, and high crime. It's also incredibly diverse, a place where Slovakian seniors live next to black families who share duplexes with third-generation Puerto Ricans who watch idealistic yuppies renovate cheap Victorians to the east.
It's complex terrain for any newcomer -- especially someone like Santiago, who is the first openly gay person elected to city government.
"Joe's got a tough time," says Councilman Joe Cimperman. "Even though Cleveland is becoming more open-minded, people still have a way of disparaging him. We'll be out in the community and people will ask me, in their own nuanced way, 'What is it like working with a gay?' It's gotta eat at him, but I never see him react. Joe's bigger than that. What more do you want in power than a person who has been abused by that very power?"
Not everyone agrees. A handful of residents gripe that the councilman is set on gentrifying their neighborhood.
"He's tearing our neighborhood apart," says Brent Thompson, owner of a café on West 25th and a member of the Clark Metro Development Corporation board. "All the progress we made in the few years before Joe came along has been ruined. He's made it clear that it is his way or the highway."
Thompson points to various bars and nightclubs in the area -- Envy, La Copa, and the now-defunct Starkweather and Modä. They're linked to the crime that plagues their neighborhood, say critics -- the shootings, the drug-dealing on Scranton Road, the noise and graffiti that spill into side streets after last call.
After years of fighting these businesses under Cintron, Thompson and others pressured the former councilman to raise objections to their liquor licenses. They celebrated when the Starkweather finally closed and Modä shut down.
But as soon as Santiago opened his office on Fulton Road, he withdrew Cintron's objections and has worked closely with bars to reopen establishments.
"I'm not going to fight small business," Santiago says. "If people want to invest in this community, I'm going to let them."
Santiago argues that crime is not the bars' fault. "The shooting in front of Envy was unfortunate, but it was a jealous psychopath that was dead set on killing that guy," he says. "If he killed him in front of the Save-a-Lot, should I try to help close the Save-a-Lot? It was an isolated incident. The people living around there know that. I've talked to the residents. I've spoken with the owners. We can't keep fighting these people. We have to communicate with them and work with them."
But where Santiago sees revitalization, Henry Senyak sees a young Turk messing with this terrain. "We want to maintain the residential character of our neighborhood," says Senyak, chairman of the Lincoln-Heights/Scranton-Starkweather Block Club. "The people who live here have been here for 50 or 60 years. We're old. We're poor. We're not all Tremont, and we don't want to be Tremont."
Santiago understands Senyak's frustration. As a longtime member of the Tremont West Corporation, Santiago watched residents battle Tremont's redevelopment. "Change is hard," Santiago says. "People hated us for what we did in Tremont, but now look at it. Most of my ward is still eight years behind."
In his office are photos of blighted blocks. Adjacent to these pictures are sketches of what Santiago would like them to be -- Bostonian storefronts, converted lofts. He points to a photo of a run-down strip mall on West 31st, then gestures to his dream. "This is now becoming a reality," he says. "Save-a-Lot is moving in and investing $2 million to renovate this space. We need to continue to encourage developers to come into our neighborhood and build."
While his vision may turn off folks like Senyak, other residents are invigorated by Santiago's plans. After Cintron, the Hispanic community has embraced Santiago as a breath of fresh air. "He's doing an absolutely great job," says Rose Bardwell of the Spanish-American Committee. "He's really trying to mobilize his community. Of course, there's a learning curve for anyone who is new, but his values and morals are in the right place."
Stefan Was, who owns a manufacturing company and moved into the ward nine years ago, is another supporter.
"I think he's a visionary," Was says. "He's not content just collecting a paycheck and fixing a few potholes. He's really trying to get to know the community and change it for the better."
But Was, the son of Polish immigrants, also understands people's skepticism. "Santiago's got a lot of support from the Hispanic community, which is huge, and I think it freaks out the older folks, people like my family of Polacks. They're worried about getting thrown by the wayside."