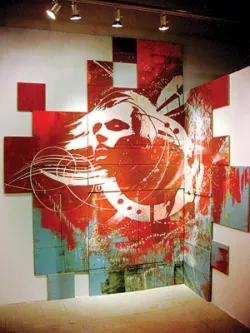 "Post-graffiti" writers combine street smarts with a sophisticated awareness of art-historical trends and techniques. Lately, artists like Bask, Tes One, Sarah Gail Hutcherson, Barry McGee, Phil Frost, D*Face, Shepard Fairey and a host of others have been finding their way into galleries and museums of contemporary art.
Today's names are part of an art-world subculture that thrives in urban-alternative scenes from coast to coast, proliferating globally through websites and blogs. Still, an anarchic punk spirit seems inseparable from the practice of graffiti, "post" or not. Take Tampa Bay artist Leon "Tes One" Bedore, who is a longtime friend of Czech-born Miami-based artist Ales "Bask" Hostomsky (each was the go-to graffiti artist at neighboring high schools in the early 1990s). Bask's roughly assembled works using found supports like doors and discarded boards are known to Cleveland area audiences from shows at 1300 Gallery as well as Artchitecture. Bedore also sometimes puts together multiple panels, allowing his imagery to flow across the different square and rectangular shapes. But works like his oversized "Fleeting Thoughts," on view at Artchitecture in his solo show Hunt and Gather, stake out their own territory. More than seven feet square and arrayed around a corner of the gallery, the swooping, spattered, pale-red acrylic work shows the face of a young woman caught up in a maelstrom of technological shapes. It's a wonderful painting and, like many of Bedore's images, it would make an outstanding tattoo. It evokes both emotional states and pixel grid decomposition - things are coming together even as they fall apart, as with the enlargement of a bitmap. As up-to-date as it is, the painting also owes something to 1960s-era poster art and earlier expressive modes; it's not surprising that the artist mentions abstract-expressionist and pop artists Robert Motherwell and Robert Rauschenberg as influences.
The role art plays in Bedore's life has been ratcheting upward for a long time. "I got serious about graffiti in '92," he says. "Then, 10 years ago, I got serious about galleries and museums." During most of the latter period, the artist has held a day job as an art director, but several months ago, he decided to go for broke, relying on art to make a living. That's what the show's title is all about: Bedore is hunting and gathering with his imagery. He says, "There is no 'plan b.' In the sci-fi movie Gattaca, there are two brothers who compete with each other, swimming out into the ocean. The younger always loses, but the day comes when he saves his older, stronger brother from drowning. Asked how he did it, he says, 'I didn't save anything for the swim back.'" Bedore is stroking through his swirling, fragmented visions of natural beauty and mechanical decay with all his strength, holding nothing in reserve.