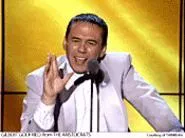 Gilbert Gottfried lights up the Friars Club with the filthiest joke ever told.
The Aristocrats
(Lions Gate)
The single joke around which Paul Provenza's documentary revolves has a standard beginning and ending, like pieces of bread that make a sandwich stuffed with excrement, incest, and whatever other foulness the teller can come up with. Provenza and Penn Jillette recorded more than 100 comedians riffing on this joke; the result is an exploration of the nature of comedy and a celebration of free speech.
The Aristocrats
is deeply funny -- unless you don't like crude humor, in which case your head might explode -- and the two hours of extra footage include legendary tellings from the likes of Bob Saget and Sarah Silverman that play even better in expanded form. A feature about comedians' other favorite jokes includes what surely is the most offensive joke ever told without words: Billy the Mime performing "The Abortion." God bless America.
-- Jordan Harper
The Tomorrow Show With Tom Snyder: Punk & New Wave (Shout Factory)
Tom Snyder, who used to fill late nights on NBC with small talk and stale smoke, never seemed to know much about his guests besides what some flunky had written on a notecard. He "plays" dumb during his October 1977 roundtable discussion of punk with Jam frontman Paul Weller, Runaway Joan Jett, rock critic Robert Hilburn, dismissive promoter Bill Graham, and the surprisingly thoughtful Kim Fowley; his musical guests say more with their eyes (rolled back in disbelief) than their mouths. Yet all the chats are illuminating -- primarily those with Elvis Costello and Patti Smith -- and the performances are thrilling, chief among them those by the Jam, Costello & the Attractions, and the Ramones, who wanted the airwaves and got 'em for three songs. -- Robert Wilonsky
Saturday Night Live: The Best of David Spade (Universal)
Consider us among the few who have always found David Spade oddly likable, not least because he's so eager to make an ass of himself. This collection, culled from his six seasons on the show and later guest visits, certainly brings the funny, with Spade's recent appearance as the post-prison Martha Stewart -- chain-smoking and wielding a sharpened spoon -- helming the ship. The extras aren't particularly rich (whose idea was it to include Spade's tepid appearance on Conan?), but they're better than the meager offerings on Alec Baldwin's new best-of. Still, if you've got a thing for Baldwin -- the veteran actor has become an SNL staple as guest host -- you're better off with his DVD. His early appearances are hot, and he absolutely nails his Charles Nelson Reilly. -- Melissa Levine
Glenn Tilbrook: One for the Road (Image)
Amy Pickard's road movie is a delightful thing, as modest as its star and just as charming. Indeed, Glenn Tilbrook actually is the hell-of-a-guy he comes off as here -- a man who, as co-singer and co-songwriter in Squeeze, used to sell out arenas, but is delighted nowadays to lead a packed club in a rousing sing-along of "Tempted" or "Goodbye Girl" that ends up in, oh, a parking lot or somebody's house. The doc's full of those funny moments, as Tilbrook and his gal-pal/manager tour the States in an RV, mingling with the common folk, who treat him like their best friend. The movie's best moment occurs in a trailer park outside Dallas, where Tilbrook small-talks some folks who flip when they find out who he is. The music's stellar, too, a collection of Squeeze best-ofs and Tilbrook's solo stuff, which is no less essential. -- Wilonsky