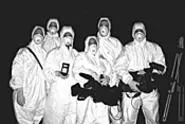 A nuclear accident is revisited in Chernobyl Heart.
THU 9/9
Filmmaker Maryann De Leo didn't know what to expect when she set out to make Chernobyl Heart, her documentary about the aftermath of the 1986 nuclear power plant accident that's since claimed thousands of victims in Ukraine. "I really had forgotten about Chernobyl, I'm embarrassed to say," she admits. "I just didn't think about it anymore." (The film, which won the Academy Award this year for Documentary Short Subject, premieres Thursday on HBO.)
Among the heartrending and harrowing images De Leo captured during her 2002 trip are infants with basketball-size tumors, stubborn families living on contaminated land, and teenagers being treated for radiation poisoning (the reactor explosion released more than 90 times the radioactivity of the atom bomb dropped on Hiroshima). "I wasn't prepared for the desperate situation," says De Leo. "But I wanted to see for myself what happens after a nuclear accident like that."
Ultimately, the film is personal, not political. Eighteen years after the disaster, the effects still linger. "You find this information, and you want to pass it on," says De Leo. "There are a lot of forgotten people that need to be remembered." Chernobyl Heart airs on HBO at 8:45 p.m. Thursday. -- Michael Gallucci
Rock 'n' Rodents
KSU pays tribute to squirrels.
FRI 9/10
Long before there was a Black Squirrel Festival, Marianne Smith-McIntyre amused friends with a story of an encounter with the rascally rodent: Days before graduating from Kent State in 1979, she was sitting on a campus bench, reading a book. Suddenly, her backpack moved. "[The squirrel] had crawled up on the bench, sneaked into my bag, and tried to steal a package of cheese-and-peanut-butter crackers," she recalls. To pay tribute to the squirrels' natural audacity, the college has partied in honor of the critters since 1981 -- two decades after the school's maintenance superintendent caged 10 of them in Canada and let them loose in Kent. Besides the munchies and beer, there's live music and an outdoor movie at 9 p.m. Says Smith-McIntyre: "If there's one thing about Kent I remember, it's those squirrels." It runs from 10 to 2 a.m. Friday at KSU's Risman Plaza on Summit Street in Kent. Admission is free; call 330-672-1169. -- Cris Glaser
Giant Puppets Alert!
Art lives -- and walks -- in Berea.
SUN 9/12
"Expect the Unexpected" is the theme for the 13th annual Berea Arts Fest, and its organizers take that declaration to heart. In addition to the 90 artists who'll be selling and displaying their wares, performance artists stroll the area in search of people to entertain and annoy. Foremost among them is the ArtCrew, who "mingle with the crowd in their fabulous costumes," says fest president Sue Adams. "They're walking pieces of art." The Madcap Puppet Theatre will also be there with scary life-sized dolls. Plus, there's live music and hands-on activities for kids. It happens from 10 a.m. to 6 p.m. Sunday at Coe Lake, behind City Hall (11 Berea Commons in Berea). Admission is free; call 440-891-1102. -- Lucy McKernan
The Oberlin Witch Project
SAT 9/11
Cincinnati's Snakes Rising brings its "goddess worship with rhythm" to Pagan Pride Day, a festival of everything Wiccan. The 10-member ensemble headlines a day of music and food, as well as a visit from author A.J. Drew, who will talk about the state of the pagan movement and sell books with titles like Wicca for Couples: Making Magick Together. Pagans run amok from 11 a.m. to midnight Saturday at Burgett's Park (State Route 58, south of State Route 511, in Oberlin). Admission is free; call 440-323-5569. -- Cris Glaser