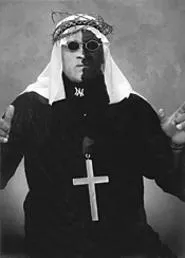 Christian rapper/manager Brother Lew refuses to work with secular artists.
J-Wal and S.o.L, tall and lanky basketball standouts turned rappers, stalk the stage with mics in hand. The DJ cranks a sinister guitar lick, and the crowd titters with nervous energy, ready to collide like subatomic particles in a superconductor. J-Wal jumps into the first verse to set off the reaction: "When you first look at me, you might think I'm innocent, but you better recognize my style is militant!"
But J-Wal's lyrical battle cry falls flat. This crowd of 'tweens would be more at home with the Backstreet Boys than the Geto Boys. One girl wears an orange T-shirt that reads "Thank God I'm cute." The only kid dancing is a Harry Potter look-alike who is either doing the Flavor Flav or having a seizure. And here, at the First United Methodist Church in Ravenna, there's a stack of Bible tracts in the hall, offering advice on "What to do to go to hell." ("Absolutely nothing!" they proclaim. "We have already sinned enough to deserve hell!")
Your ordinary hip-hop show, this ain't. Then again, J-Wal and S.o.L., a.k.a. "The Divine Soldiers," aren't an ordinary hip-hop group. Forget 40s of Olde English; these teetotalers wouldn't be caught sipping beer at T.G.I. Friday's. Booty-shaking bimbos are also out of the question -- they wouldn't be good role models for that 14-year-old girl in the sparkly "Princess" longsleeve. Heck, J-Wal and S.o.L don't even cuss. Sometimes they turn off heavily bleeped radio songs, because they feel guilty filling in the blanks -- in their imaginations.
As their name implies, the Divine Soldiers are rappers for God, and they're not alone. More than a dozen local rap crews, with names like Soul Survivors and Soul Winner, proselytize over hip-hop beats. They call their music "Christian rap" or "holy hip-hop" and have good reason to hope they can increase God's flock, or at least give the faithful something to bob their heads to. Last year, The Source magazine -- the bible of mainstream hip-hop -- did a lavish spread on Cross Movement, a Christian rap outfit from Philadelphia. The crossover success of rap rockers P.O.D. and preachy Pearl Jam rip-offs Creed also offers proof that Christian artists can break out of God's ghetto.
That's not to say that being a Christian rapper is all milk and honey. Nothing is more antithetical to the swaggering braggadocio of mainstream hip-hop than subservience to the Lord. What would Jay-Z, the Cash Money Crew, and P. Diddy be without guns, dope, bling-bling, and ho's? If you answered "boring," your tastes are in line with those of most rap buyers.
DJ Doc knows this all too well. Back when he attended Mayfield High School, he got quizzical looks from classmates when he told them he aspired to rhyme for the Lord. "They can't figure out what in the world I would rap about. Do I rap about Abraham and Genesis?" he says. The reflexive stiff-arm to his God-talk continued when he launched his Christian hip-hop radio program, The True Undaground Show, on Tuesday afternoons on Cleveland State's WCSB-FM/89.3. During one open-mic session, DJ Doc recalls, a hostile caller "starts freestyling stuff about how he doesn't want to hear my wack Christian rap." Nowadays Doc, who has a bald head and a line shaved in his right eyebrow, prefers to call his art "Truth Hip-Hop" to avoid those prejudices. "There's a stereotype on Christian rap that it's wack. The fact is, it's not corny, 'cause God is real."
The division between Christian and mainstream rap goes both ways. DJ Doc confesses to suffering pangs of guilt after he invited some friends into his studio to cut an EP and they started slinging rhymes glorifying drugs, casual sex, and getting into fights. Brother Lew, a Christian rapper and manager, refuses to work with secular artists. When one approached him and asked for his managerial services, Lew insisted he convert.
But despite all their efforts to save the souls of hip-hop heathens, Christian rappers say church leaders can't seem to separate the music from the message. They hear bone-rattling bass and hardcore rhymes and think it must be the devil's influence, regardless of the godly lyrics. Ronny Knight, a DJ who plays gospel hip-hop on WENZ-FM/107.9 and sometimes rhymes himself, was recently invited to a church to perform, but when he got there, he learned that the man who invited him hadn't cleared it with church higher-ups. "He said their bishop didn't allow Christian hip-hop," he says.
Grip, a rapper from Canton who sounds like Eminem but looks like Bubba Sparxxx, says that in an ideal world, churches would support his brand of ministry with a share of the tithing. He knows Christian rap works. He was saved after hearing a record by the Gospel Gangstaz. He's also been at shows where kids pulled guns from their waistbands and crack from their pockets to lay down on the altar. But church leaders still won't give him any respect. "They'd like it more corny sounding," he says. "Little tiny Casio beats -- and I'm going, 'Jump for Jesus! Jump for Jesus!'"
The church's confusion about Christian hip-hop is understandable. Songs such as "When God Shows Up" leave little doubt where Mista and Mrs. Taylor -- the Christian answer to J. Lo and Ja Rule -- stand, but other Christian artists could easily be mistaken for their secular counterparts.
On the title track of his forthcoming album, No Way in Hell, Grip raps, "I caught the bloodbath and he paid my bail." This is no ode to a compatriot who sprang him from jail after a gangland shooting. "In other words," Grip explains. "I accepted the blood of Christ. Christ died for our sins, you know what I'm saying? That's what I mean by 'I caught the bloodbath and he paid my bail.'"
Although Christian hip-hoppers would be loath to admit it, the church's discomfort is as much a compliment as a curse. After all, it goes to show how far Christian rappers have come since the days of DC Talk. One doubts that P.O.D.'s breakout hit, "Alive," would have been so well received if the singer had been more explicit that his newfound joy derived not from a girl, but from Jesus.
Christian rappers aren't just turning the other cheek to their critics. On their new album, The Evolution of Communication, Mista and Mrs. Taylor devote a whole song to answering stone-throwers within the church. But the song "Message to the Church" could be interpreted as a rebuke to secular critics as well. "Just because I'm sanctified doesn't mean my music can't be funkdafied," Teresa Taylor sings. "As long as my Jesus is glorified."