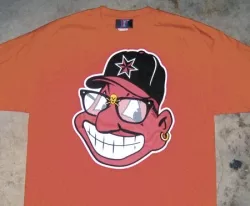 As the Indians cross items off their Christmas wish list and the Browns burn through an economy pack of Bics adding to theirs, fans have a few more days to hammer out the details of their missives to Santa. The question is: What do we want?
An NFLShop.com commercial shows a husband cutting his finger opening a gift from his wife. The liquid substance that oozes from his finger is not red: It's Packers green and gold. The tagline is "This holiday season, give them what they bleed for." The sentiment is right, of course. Fans want their favorite teams' apparel. But there are more options to fill those gloriously wrapped gifts than simple (and expensive) licensed gear. Here's a small Cleveland sports gift guide, because no one should have to suffer the indignity of waking up to a replica Derek Anderson Pro-Bowl jersey, and those Gladiators season tickets are kind of worthless now.
The Wild Thing Tee from Pennant Race Clothing
Say what you will about the Tribe's Chief Wahoo logo. Whether you think it's racist, controversial, harmless or beautiful, we can all agree that the Chief gets a major upgrade on this shirt, sporting skull-and-crossbone glasses and an earring. Pennant Race clothing pays homage to Cleveland's Major League team by giving Wahoo the Ricky Vaughn treatment, complete with Vaughn's No. 99 on the back. Available in black and red, it's $30, which is kind of steep for a shirt, but it's also cooler than anything you'll find at the Indians team shop. Pick it up at pennantracegear.com. Spend more than $50 on your order and score a free game fitted hat.
A Trio of Shirts from Waiting for Next Year
The best Cleveland sports bloggers might also be the best Clevo sports-related shirt designers as well. Paying tribute to fan favorites, the boys over at Waiting for Next Year come on strong with offbeat and reasonably priced options for fans of Forest City.
First, the 1991-92 Cavs throwback tee honoring the quintet that will always hold a special place in the hearts and minds of basketball fans - Larry Nance, Mark Price, Craig Ehlo, Hot Rod Williams and Brad Daugherty. We'll always have Richfield, guys. $20.99.
Second, the Joe Tait special, featuring the best slam-dunk call in basketball: "Wham, with the right hand." My only complaint is the shirt isn't available in Bill Cosby-style sweaters, as would befit the best-dressed announcer in the game. $19.99.
And third, the Captain Clutch, because Phil Dawson is on a very short list of Browns players who deserve nothing but love. $20.49. Pick up any of the designs and many more at skreened.com/wfny.
Starter Jackets Repurposed
Remember those old Starter jackets, the ones that were absolute must-haves as a kid? The writers and designers at No Mas amassed quite a collection of them, then took the time to break them all down and sew them back together as gym bags. Abundantly cool, I know. They have three Browns and two Indians versions available. Yes, they are quite pricey - $300 - but with a limited supply, top-notch craftsmanship and the chance to have the coolest bag ever, it's worth every penny. E-mail finisher@nomas-nyc.com for availability.
Is it Golf Weather Yet?
The ever-entertaining and perfectly Cleveland rotation of wind, sleet, rain, snow, cold and ice might make it feel like that grass is never going to be green again and you'll never put that parka back in the closet. But really, spring and golf are closer than you think. Northeast Ohio will host a major golf event this year - the 2009 Senior PGA Championship at Canterbury Golf Club May 21-24 - and tickets are discounted until December 31. Tickets and packages range from $10 to $80. Order online at pga.com/seniorpga/2009.
Remember the Force
No, I'm not talking about the most recent incarnation of indoor soccer in Cleveland. I'm talking about back in the day, in the '80s when the Cleveland Force were the Cleveland Force, with the swirling, threatening logo and the beautiful yellow uni's. There are plenty of twentysomethings around town who would kill for a jersey from that '78-'88 era, and they're all probably going to have a bidding war on eBay once they see the jersey that's up for grabs. The auction, which ends December 21, features a size-medium Carl Valentine 1984/85 long-sleeve blue Cleveland Force jersey. Search for seller rememberingthebeautifulgame and let the bidding begin.