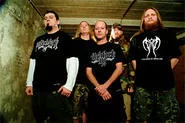 Obituary's death metal slays Peabody's on Thursday.
From 1989 to '94, Obituary dropped a string of albums that defined tail-dragging Florida death metal.
Slowly We Rot
,
Cause of Death
, and
World Demise
are genre classics, marked by mid- to no-tempo crushers, aerial solos courtesy of axeman Allen West, and John Tardy's horrendous growls, which sound as if he scraped his vocal chords with a cheese grater after drinking chicken blood.
Originally disbanding in 1997, the group has just released its second jam since re-forming two years ago. Xecutioner's Return starts out solid enough: churning death metal marked by Tardy's always awesome vocals. Shrouded in delay, as on World Demise, they operate more like an instrument than the tool of a traditional singer.
West is currently serving hard time for DUI, but Ralph Santolla is a durable stand-in. He rips some quality solos, but nothing like the one that is an actual nitrous whippet on 1989's "'Til Death."
Return's first six or seven songs trudge past -- pretty much all the same. You might even get a little bored. Obituary is just slowing heart rates way down. As a result, you won't even notice the pillow being slipped over your face when "Contrast the Dead" comes on.
For better or worse, Obituary is playing music as if it's still 1994, with zero concessions to anything that has gone down in metal over the last 10 years. And I say better.