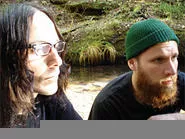 Om brings its throb to the Grog on Thursday.
Fans of mind-bubbling throb should bring their earplugs, lest these visceral experimentalists mash your brain into creamed corn. San Francisco's Om mines a sludgy thump concussive enough to stun small animals at 50 feet. The whirlpool of low-end comes courtesy of Al Cisneros, whose ominous basslines put a twist on the typical duo template, and drummer Chris Hakius, who unleashes tumbling rolls and torrential cymbal storms. The former rhythm section for doom-metal legends Sleep, Om releases its third album,
Pilgrimage
, in October.
Wild-eyed visionary Daniel Higgs meanwhile continues to cultivate a solo career outside of fronting 20-year-old post-punk legends Lungfish. The bearded poet and musician from Maryland has released four CDs in the past three years. Higgs explores psychedelic folk, Middle Eastern sounds, and shrill static. He uses guitar, harmonium, Jew's harp, and banjo, creating a bluegrass-inflected drone on "Thy Chosen Bride," which sounds like Will Oldham after stumbling into Deliverance.