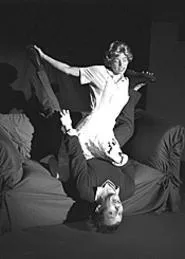 Reefer Madness lights up Beck Center.
I Love You, You're Perfect, Now Change --
The promotional material dubs this musical revue "Seinfeld set to music." But in reality, it's more like The Bachelor set to a metronome, with predictable book and lyrics by Joe DiPetro and a mechanically repetitive musical score by Jimmy Roberts. Just pick your courtship cliché, and there's a song to address it, whether it be the serious shortage of desirable single men or the characteristics of testosterone-poisoned males who date chicks. The first act focuses on the foibles of the dating scene, and the second plumbs about an inch or two into the depths of marital misunderstandings. It's rescued by some amusing dating and family-life gibes, and a cast of Cleveland-based performers that squeezes every ounce of good humor out of what, in lesser hands, would come off as threadbare material. Larry Nehring, in particular, is a delight to watch in every role, from dazed boyfriend one moment to TV huckster the next. Through June 27 at the Hanna Theatre, 2067 E. 14th St., 216-771-4444.
-- Christine Howey
Jar the Floor -- Mother-daughter relationships can be as toxic as a fertilizer bomb. And when you multiply the moms by three and put four generations of an African American family in one room, you'd best break out the Kevlar vests and shatterproof goggles. That's the scenario playwright Cheryl L. West creates in Jar the Floor, a play with sizzling dialogue and a terrific cast, but an inability to deliver fully on its theme of women's aspirations denied and dreams deferred. They're gathered for a game of psychological paintball at the 90th-birthday celebration for matriarch MaDear, at which three of the four have no compunctions about brashly and repeatedly taunting each other for their shortcomings. It's just too bad the second act doesn't cash in on the enormous momentum created earlier. West's narrative engine sputters through a series of revelations and fairly predictable family convulsions. Eventually, the arguments start repeating themselves, and the dramatic tension slowly slips away. Through June 13 at Karamu House, 2355 East 89th Street, 216-795-7070. -- Howey
Reefer Madness -- A spirited cast has turned this adaptation of the 1930s film into a giddy send-up of adult-authoritarian bullshit. We are led through the dark corridors of hemp hell by a high school official who is using his cast from the recent class play to illustrate the ravaging results from flying Mexican Airlines. Jimmy and Mary are two squeaky-clean teens who adore swapping lines from Romeo and Juliet to share their affection. But once Jimmy is lured into trying pot, his fate is sealed: Soon he's using a scandalous new kissing technique and running down an old man; of course, Mary follows him and also gets hooked. From there, the moralistic lessons come fast and furious, and are often helpfully spelled out on cards (e.g., "Reefer makes you kill poor old men") carried across the stage by a chorine. Leaving no ghastly narcotic result unimagined, the comical hyperbole includes a cannibalization, a baby sold for weed, a suicide, and a final, retributive electrocution. This production is addictively entertaining, thanks mostly to its appropriately over-the-top characterizations. Through June 20 at Beck Center, 17801 Detroit Ave., Lakewood, 216-521-2540. -- Howey
The Sweepers -- Set in the summer of 1945, John C. Picardi's play focuses on a small, low-rent Italian American community in North Boston where the women have been left alone to deal with the stress war creates: the fear of loved ones ending up physically maimed, emotionally scarred, or dead. The story line attempts to integrate the faraway battles with the more mundane concerns of three women who have grown into middle age together in their cheek-by-jowl homes. Picardi's script is wonderfully evocative of the time, place, and ethnic aura, and it's often quite funny, but there are serious fissures produced by melodramatic overreaching and a monomaniacal fixation on one rather strange plot point. Certainly the negative effects of war on the families of soldiers are highly emotional, which makes it all the more important that a playwright not wade casually into those wellsprings of sentiment. Even against these obstacles, however, a splendid Ensemble cast almost pulls it off. Presented by Ensemble Theatre through June 13 at the Cleveland Play House, 8500 Euclid Ave., 216-321-2930. -- Howey