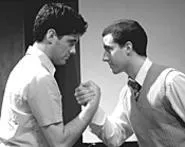 Mercury Summer Stocks Blood Brothers opens Friday at Heskett Auditorium in Bedford Heights. Call 877-212-7185.
A Streetcar Named Desire --
The credentials of this Pulitzer-winning show are legendary, and everyone deserves to see it in live performance. Of course, hovering over any staging of Streetcar is the blimp-like presence of the late Marlon Brando, who forged Stanley Kowalski's petulant man-child persona on Broadway and in film more than 50 years ago. Fair or not, any group hopping on this tram had first better make sure they can clear the Brando hurdle -- not by mimicking his iconic portrayal but by matching its physical intensity and stark honesty. Here embodied by ever-scowling Scott Sowers, Stanley is more of a gym rat than a gorilla. A bit short and appearing at least 10 years older than his character should be, Sowers always seems to be acting tough, his anger a thin veneer instead of a deep-in-the-marrow inarticulate rage. Perhaps director John Woodson couldn't get more out of his Stanley than he did, but that weakness at the center pulls all the other performances down a notch. Through July 17 at Porthouse Theatre, 1145 Steels Corners Rd. (Blossom Music Center), Cuyahoga Falls, 800-304-2363.
-- Christine Howey
Oliver Twisted -- It has been claimed that there's a gene in some people's DNA spiral that compels them to seek out risky, potentially harmful activities, such as rock-climbing, deep-sea diving, and parking at expired meters in Cleveland Heights. True to their risk-adoring genes, the seven-member group titled Oliver Twisted (made up of former members of the now-defunct Second City Cleveland) does audience-inspired material exclusively, without the safety net of scripted modules. And thanks to a fortunate blending of physical types and personalities among the performers -- along with their determined insistence on yanking every loose comedic thread -- this is an improv experience that will leave you laughing far more often than wincing. The troupe's resident nutcase, Randall Harr, is a fairly normal-looking fellow who transforms into a maniacally, often hilariously intense embodiment of whatever animal, vegetable, or mineral he's been assigned. Mondays at Hilarities Comedy Club at Pickwick & Frolic, 2035 E. 4th St., 216-736-4242. -- Howey
Whose Mess Is This! -- In comedy, as in sports, on any given day you can be a winner or a chump. That's especially true when the comedy is partly improvised. This effort's two beer-bellied comedians, Jeff Blanchard and Don Mitri, lumbered onto the stage and performed (mostly) prepared skits and songs based on randomly selected subjects such as sex, romantic love, platonic love, and power. A lot of humor could spring from those concepts -- but not in this theater. Their incomprehensible bit about platonic love had something to do with a bed filled with money that they then replaced with stones. When it isn't being puzzling, the show features an overload of tired shtick, antique stereotype gags, and atonal songs -- although a parody titled "Everything's Beautiful at the Buffet" was cute. Blanchard and Mitri no doubt can be funny in other venues, or perhaps with this material on other evenings (although that strains credulity). But on this night, the mess was all theirs. July 16 through August 21 at Kennedy's Down Under, 1519 Euclid Ave., 216-241-6000. -- Howey