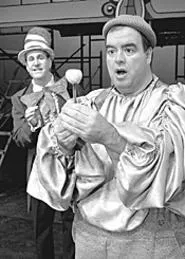 You can catch the Cat in the Hat (Mark Moritz) and Horton the Elephant (Patrick Carroll) at the Beck Center in Seussical! The Musical.
A Christmas Carol --
This beloved ghost tale of Ebenezer Scrooge and his mystical road trip from cheapskate to effusive lover of humanity is a familiar annual production, though here it seems more contemporary than ever: Victorian England's laissez-faire approach to the indigent and Scrooge's own take ("Prisons and workhouses should suffice for the idle poor") is finding a sympathetic echo in our social-program-depleted "ownership society." Presented as a story within a story, Dickens' message is delivered through a dazzling array of stage effects -- including disappearing gravestones, towering and ominous apparitions, and so much fog that you're likely to leave the theater with wrinkle-free clothes -- but it doesn't quite explicate the personal struggle that Scrooge must endure before his rebirth as a man of generosity. Seen through the eyes of young Master William, a member of the Cleaveland (ahem) family, the plot unfolds as members of the boy's affluent household take on the roles in Dickens' work, including himself as Tiny Tim and the snarky butler as evil Ebenezer. Dudley Swetland as Scrooge reprises his rendition of the ultimate miser, spitting out a world-class "Bah, humbug!" Presented by the Great Lakes Theater Festival through December 23 at the Ohio Theatre, 1519 Euclid Ave., 216-241-6000.
-- Christine Howey
The Christmas Carol Rag -- If a new play about Christmas opened two years ago and nobody in the country has produced it since, that might indicate there's too much ho-hum in the ho-ho. And that's the case in this gender-flipped replay of the Dickens classic, set in ragtime-era New York. Norman Allen's script lurches from sarcasm to sugary sentiment to theatrical in-jokes while trotting out a number of creaky period songs that would have been better left undisturbed. The Kalliope troupe offers its usual lavish costumes, but this time the voices aren't up to their high standards. Although John Frederick Herget IV and Kimberly Fain-Bryant handle their tunes with pizzazz, and director Paul F. Gurgol turns in a nifty tap number as cheery Fezziwig, there is little punch in this Carol. Primary responsibility for this rests with Adina R. Bloom as rag-trade magnate Evelyn Scrooge, who chews her lines with the same overcooked intensity that she brings to her laboriously phrased solos (performed in a single spotlight, standing motionless at center stage like a Madame Tussaud wax replica of herself). It's a shame Russ Borski's charming, relentlessly efficient set is wasted on this lumpy and insipid serving of Christmas pudding. Through December 19 at Kalliope Stage, 2134 Lee Rd., Cleveland Hts., 216-321-0870. -- Howey
Fully Committed -- Here in Cleveland, it's hard to imagine the intensity of hypercompetitive New York City dining, where trendy eateries are often booked solid for weeks or even months in advance, leading desperate gastronomes to pull every VIP string or negotiating ploy they can summon to get their name on the reservation list. This culture drives Becky Mode's Fully Committed, a one-man show at Beck Center that is far more fascinating as a performance challenge than as enlightening theater. The man on the hot seat is Sam, an aspiring actor who is holding down the reservations fort while his supervisor is supposedly stuck in traffic. From the moment Sam shucks off his coat, all the phone lines are blinking with calls from society matrons, out-of-town hopefuls, and assistants to various A-listers. Juggling the voices and mannerisms of more than 30 characters, lone actor Nicholas Koesters is tasked to keep all the parts distinct and amusing while performing at a breakneck pace for almost 90 minutes. Under the direction of Curt Arnold, the immensely talented Koesters clicks into one characterization after another with machine-tooled precision. If the script were of a similar quality, this would truly be a memorable feast. Through December 19 at Beck Center, 17801 Detroit Ave., Lakewood, 216-521-2540. -- Howey
Plaid Tidings -- Yes, the boys in plaid are at it again in the Play House's seasonal encore of four-part guy-harmony. The conceit is that some 1950s-era projection-club geeks from high school formed a singing group, à la the Four Freshmen, and started to perform pop tunes in the nascent era of rock and roll. But their careers were cut fatally short by a car crash -- that is, until they revisit Earth on a mission to create a holiday TV show. And so they do, with songs ranging from "Let It Snow" to "Moments to Remember." The chaps are in fine voice, but the overall timing seems a bit flabby this time around. And the supposedly comic character of Jinx (he gets nosebleeds on high notes) is filled by Paul Binotto, a fellow with no discernible flair for comedy. Rodney Peck as Sparky and Christopher Youngsman as Smudge are intermittently amusing, but the best performance is turned in by Scot Fedderly, who seems to have more energy than the other three put together. If you like those syrupy-smooth sounds, this is an inoffensive way to get your holiday fix. But don't expect to laugh yourself silly. Through December 19 at the Cleveland Play House, 8500 Euclid Avenue, 216-795-7000. -- Howey
Seussical! the Musical -- On the face of it, the charmingly rhythmic tales written by Dr. Seuss would seem natural for a musical. But this show falls well short of earning its exclamation point, despite the earnest efforts of the Beck Center company. When Seuss's original loopy rhymes are jammed into the composition machine by Lynn Ahrens (lyrics) and Stephen Flaherty (music), the result is an oddly charmless collection of tunes that rarely rise above the banal. The show's authors never capture the giddy bounce of Dr. Seuss's language, so almost inevitably, director Scott Spence's production is desperately short on whimsy. The central role of the Cat in the Hat is played by talented Marc Moritz more as a self-satisfied tummler at a Catskills resort than as the zany, borderline anarchist Seuss created. Adding to the dour atmosphere is scenic designer Richard Gould's neo-industrial erector set, which offers few of the swoops and curlicues so prevalent in Geisel's art. Perhaps the lesson is clear: Dr. Seuss is perfect, just as he is -- on the pages of books, in the hands of kids. Through January 2 at Beck Center, 17801 Detroit Ave., Lakewood, 216-521-2540. -- Howey