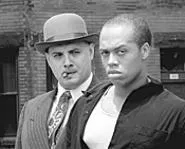 Union politics occupy Brian Pedaci and Lelund Durond Thompson in Charentons free touring production of Waiting for Lefty.
Aïda --
Back in 1998, the folks at Disney Theatrical Productions thought it would be dandy to update Giuseppe Verdi's tale of doomed love and handed it off to rocker Elton John and his librettist, Tim Rice, to conjure their pop-music magic. The result is a bubblegum version that shares little more than three vowels and a consonant with the original. A largely capable Beck Center cast works diligently to bring this mummified colossus to life, but a sandstorm of banal tunes and too many sitcom-cute gags leave this show far below other musical-theater reinterpretations, such as the magnificent Disney creation The Lion King. The character of Aïda, the Nubian princess-turned-captured-slave, is written and played fairly straight, and Colleen Longshaw has a few sterling moments in her songs. But she has a tendency to clump across the stage, belying the grace and stature that would bespeak her royal lineage. In addition, she is unable to spark even a flicker of sexual chemistry with crew-cut Ian Atwood, who plays her lover, Radames, with all the swagger and intensity of an overgrown junior-high kid at his first gym dance.
Through August 14 at Beck Center, 17801 Detroit Ave., Lakewood, 216-521-2540.
-- Christine Howey
Cymbeline -- If you're a fan of Shakespeare's plot contrivances and character flourishes, you may have found a treasure trove in this later play, a rather lumbering work featuring a nasty stepmother, underhanded trickery, cross-dressing, and a beheading. It's hard to ask for more from an evening of free theater -- but, alas, we do. In this case, we ask for more actors who have a clear sense of what they're saying and to whom. Nothing drags down Shakespeare faster than performers who are wrestling with the Bard's complex but glorious language and wind up losing two out of three falls. In this cast, there are some who manage to shine, but others who should be kept away from Will's work at the point of a sharp stick. Presented by the Cleveland Shakespeare Festival August 4 and 6 at the Willoughby Fine Arts Association, and August 12 and 14 at Lincoln Park in Tremont, 877-280-1646, www.cleveshakes.org. -- Howey
Dark Room -- The conventional image we have of playwrights and poets is of lonely souls slaving away in a poorly lit basement. Well, you've got the location and the illumination right, but everything else about the Dark Room project is much cheerier. Sponsored by the Cleveland Theater Collective, it's a once-a-month workshop/cabaret for writers who want to try out their new efforts on a small but extremely encouraging audience. On this night, in a basement room in the Parish Hall at Cleveland Public Theatre, the quality of the pieces varied widely, as is to be expected with scenes or verses that are still being developed (thus, the dark room). But one monologue by Tom Huggins, describing the burnout of nurses dealing with psycho patients in hospitals, was as irreverent and hilarious as a David Sedaris essay. Other offerings, each under 10 minutes, touched on the obnoxious questions asked of "little people," a musical take on holiday haters, and a little girl's imaginary friend, who is a middle-aged Dame Edna type. Reading from scripts (and dragooning anyone nearby to fill out a cast), the writers express, share, and support. And that's a terrific environment for any embryonic artistic endeavor. Takes place the second Thursday of every month at Cleveland Public Theatre's Parish Hall, 6205 Detroit Avenue, 216-631-2727, www.clevelandtheater.com. -- Howey
Michael Stanley Superstar: The Unauthorized Biography of the Cuyahoga Messiah -- While few among us would actually sell our souls to the devil, exchanging a brief lifetime of success and fame for an eternity of pain and damnation, we'd all probably like to be given the opportunity. This is precisely the chance fledgling rocker Michael Stanley is offered in this rollicking parody by Last Call Cleveland. When Beelzebub presents the opportunity for world renown, Stanley avers that he'd be satisfied with just being famous in Ohio -- specifically Northeast Ohio, the area from Brunswick to Willoughby to Sheffield Lake. That's one of the many comedic high points in this loose, energetic, and frequently hilarious faux profile of the Cleveland rock legend, which traces his richly fictionalized career in both live scenes and manufactured video clips. Mike Polk, wearing the worst fake beard ever devised, plays Stanley with just the right amount of dazed earnestness. Presented by Last Call Cleveland August 4 and 11 at the Cleveland Black Box Theater, 1210 W. 6th St., 216-696-4242, www.lastcallcleveland.com. -- Howey
Midnight Martini Show -- There is a strange attraction in Frank Sinatra's loosely organized Rat Pack and their infamous, loopily disorganized Las Vegas shows that ran for a few golden years back in the 1960s. Frank, Dean Martin, and Sammy Davis Jr. mixed pop songs, corny jokes, and Johnnie Walker into an irreverent, hip evening that seemed so easy. What the Midnight Martini Show at Pickwick & Frolic proves is that it ain't easy at all. This one-hour set attempts to capture the bored-with-it-all sophistication and the slightly inebriated intimacy that the Rat Packers achieved, but it fails on several counts, from the overly eager performers to the florid songs and lame drinking jokes. Which is not to say that this no-cover show doesn't provide a convenient glide path for those downtown on a Friday or Saturday night. Indeed, some of the American standards are sung well enough. Now the task is to find directors and performers who understand that being casually funny while delivering classic tunes takes a lot of work. Fridays and Saturdays at Pickwick & Frolic, 2035 East 4th St., 216-241-7425. -- Howey
Songs for a New World -- This collection of unconnected songs by Jason Robert Brown, penned for a number of projects that never saw the light of day, exhibits plenty of composing and lyric-writing talent. But without a context for the songs or characters for the performers to develop, eventually it feels like an empty exercise. And too many of the tunes prattle on in a new-agey way about taking on challenges, reaching for the sky, and "believing in all the things I've yet to be." One or two of these motivational ditties might have worked, inside a story. Linked together, they're like a string of carp, one indistinguishable from the next. It's too bad, because the cast -- Tracee Patterson, Hannah Laird, Neal Mortimer, and Mitch McCarrell -- can sing their livers out. But except for Patterson in a couple of humorous renditions, they lack the individual charisma to help this scattered show be more than a passably competent recital. Through August 14 at Cain Park, corner of Superior Ave. and Lee Rd., Cleveland Hts., 216-371-3000. -- Howey
The Sound of Music -- Carousel Dinner Theater's latest production excels at bringing forth the humanity in this classic, in which the von Trapp family is forced to abandon its home and flee to the U.S. in 1938, just as the Nazis are goose-stepping their way through Austria. But the show narrowly misses some of the smaller moments, both dramatically and musically, that can wring a tear or two out of the most hardened cynic. The result is a solid staging of an old favorite that doesn't quite bring up all the goose bumps it might. Using the vast expanse of the Carousel stage to maximum effect, director/choreographer Mitzi Hamilton creates postcard-pretty tableaux and helps shape a few intriguing performances -- most notably Cristin Mortenson, who crafts a convincing portrayal of lively young Maria. The seven von Trapp children are played by kids who never get so cheek-pinchingly cutesy as to trigger an involuntary gag reflex in audience members -- a real danger with some productions. Through September 10 at Carousel Dinner Theater, 1275 Waterloo Road, Akron, 800-362-4100. -- Howey
Tales of the Lost Formicans -- If suburbia is the antithesis of everything that has value in life, why the hell are so many people living there? This question piques the interest of aliens in this delightfully off-center play by Constance Congdon. Utilizing multiple playing areas, a large video screen, and a small monitor, restlessly inventive director Clyde Simon smoothly slaloms through myriad scenes depicting the numb, unrelenting despair faced by Humanus americanus. But amazingly, the production is never downbeat or depressive -- we sympathize with the trapped souls even as we rue their dead-end existence. Perhaps one saving grace is that the lead alien who narrates the piece (performed with a stoned, HAL-like synthetic warmth by Arthur Grothe) is pretty much as dumb as a brick himself. With all the nuanced perception of Donald Rumsfeld analyzing Iraqi culture, the chief Formican is continually puzzled by observed behavior and even a bit flummoxed by the design of a dinette set, noting that the wobbly table and chairs must indicate the unreliable nature of the planet's existence. Each of the performances is crisp and distinct, but all merge deftly into Simon's overall style, swerving between parody and earnestness, but never overdoing either. Presented by Convergence-Continuum through August 6 at the Liminis, 2438 Scranton Rd., 216-687-0074. -- Howey
Waiting for Lefty -- With a title that could be interpreted as the plaintive cry of progressives looking for a politician to carry their banner, this Clifford Odets play from the 1930s is far out on that same political wing. Charenton Theater's free offering for August is an episodic and none-too-subtle screed from the working class, which in this post-Depression time was being dominated and abused by jackals of the capitalist state. A group of taxi drivers has gathered to protest; then the action breaks into flashbacks, showing various workers scrabbling to survive while the Man keeps them down. Odets' dialogue still displays a lively wit: "I don't know what's up your sleeve." "It'd be my arm, if I had a shirt to wear." And the Charenton cast, directed by Bill Hoffman, carves some sharp characterizations, particularly Brian Pedaci as the bloated union bigwig Henry Fatt and a Broadway producer who loves his wolfhound more than his fellow man. But all the scenes play the same chord, just in different octaves, and that begins to feel repetitious -- even in a show that's only 75 minutes long. Presented by Charenton Theater August 4-6 at Voinovich Park, E. 9th St. Pier; August 11-13 at Cudell Rec Center, 11910 West Blvd.; August 18-20 Bellflower Rd. behind CWRU's Thwing Center; and August 25-27 at Superior Viaduct, W. 25th and Detroit; www.charenton.org. -- Howey