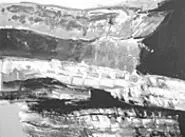 A watery theme flows through paintings by Illinois artist Leo Grucza, on view at Gallery in the Colonial Marketplace ARTcade.
Capturing Cleveland: Pages From a City Sketchbook --
The 200-plus works in various media by 21 Cleveland Institute of Art students all portray Cleveland scenery. Although their subjects are easily recognizable, providing opportunities to reminisce, most of the works are mere surface studies, lacking tangible mood and depth. Among the exceptions are Sarah Laing's digital prints of the decaying interiors of abandoned steel-mill offices, with their peeling paint and empty desk drawers; the images create a palpable sense of forlornness. Ben Dewey goes beyond exterior facades as well, in his exuberant, colorful portraits of people on the West Side. Christi Burchfield's charcoals of Tremont are also strong, their soft lines appealing to any city dweller who's ever loved architecture. The works on view will be compiled into a sketchbook for sale. Through July 31 at SPACES, 2220 Superior Viaduct, 216-621-2314.
-- Tami Miller
Carmen Ruiz-Davila: Everywhere and Here -- Sex is the key to decoding Carmen Ruiz-Davila's large-scale, theatrical installations. What at first appears cryptic and cartoonish becomes crystal-clear with the help of the backstory posted on the wall next to each piece. The flamboyant "Juana la Loca (Juana the Crazy)" features a black-and-white-tiled floor and giant castanets painted red with automotive paint and decorated with orange flames. Juana la Loca was a 15th-century Spanish queen who supposedly went mad because of her husband's sexual indiscretions. The bright red of this inflamed piece exudes the passion of the tale, while the castanets themselves recall a classic feminine symbol: the charming Spanish flamenco dancer. "La Mysterieuse Chambre Chinoise de Madame Wallis Simpson (The Mysterious Chinese Room of Madame Wallis Simpson)," a parody of Asian massage houses, is another feast for the eyes: A giant white spoon takes on the role of Jacuzzi bath, complete with bubbling water. Ornate wallpaper and small figurines give the setup an exotic flair. Looking into these installations is like embarking on a twisted adventure through the artist's fertile imagination. Through August 8 at MOCA, 8501 Carnegie Ave., 216-421-8671. -- Nadia Michel
Clarence Carter: The Unknown Snapshot Studies -- Carter's oil and watercolor paintings are almost all close reproductions of photographs he took. The snapshots, most taken in the 1930s and '40s, were discovered among the late artist's belongings; here, 148 such pictures are paired with 21 works they inspired, lending a documentary air to the display. "The Good Crop," a 1942 painting featuring a man driving his potato crop to the market, is nearly identical to an undated Carter photo; only the perspective is different. Carter never mentioned these pictures, so seeing the evidence is like being let in on a secret. Through September 18 at the Cleveland Artists Foundation, 17801 Detroit Ave., 216-227-9507. -- Michel
Cleveland Institute of Art Student Summer Show -- From glasswork to digital graphics, abstract minimalism to what might be called "reality art," this show runs the gamut. But the highlight undoubtedly is photography. Brendan Beecy's Untitled Series digital prints are lit from behind, making the images of feet, arms, and faces seem to come to life. Smaller but no less intriguing is Lauren Gutierrez's Miss January: The American Burka Collection. The model, in a flesh-toned body stocking and a bleached-blond wig, poses in a perfect '70s pinup style. Maybe it's the baby-bottle nipples masquerading as the real thing, or the exaggerated red lips and garish makeup, but the effect is convincing at first glance and hilarious upon a second look. Through July 30 at the Cleveland Institute of Art's Reinberger Galleries, 11141 East Blvd., 216-421-7407. -- Michel
Contemporary Cloth Artists -- More than a dozen intricate quilts decorate the brick walls of Art on Wheels, Inc. (the former White Sewing Company) in the west Flats. Created by members of Contemporary Cloth Artists (CoCA), a Northeast Ohio quilting group, the quilts were made with traditional techniques as well as appliqué, beading, art cloth, and collage. Themes vary widely. Ruta Butkus Marino's hilarious "Ripe 'N Ready" is reminiscent of kitschy black-velvet paintings. One pin-up girl and two muscle men, all nude, coyly hide within suggestive mounds of fruits and flowers, electrically colored and bursting from their jet-black background. Judith Kessler Smith's quilt "Orange Alert" is the artist's personal response to a serious issue. In the quilt, a young girl holds a magic wand as her small kitten sits by her feet and the head of a bright orange tiger floats above her. The artist informs us on the corresponding label that the quilt is her way of addressing the growing climate of fear in the U.S. today. Through August 29 at Art on Wheels, Inc., 1284 Riverbed St., 216-702-4808 -- Miller
Curve Series: Jason Lee -- Lightboxes scattered around the gallery space, in groups of three, recall urban sprawl and planned communities. Four groups of three orange boxes project light through a transparent image at the top: Two square boxes show a picture of grass, while the circular box has a water print. The pattern is repeated in each set. On the wall, projected aluminum rods carry 100 yellow ducks, in groups of 25, spread out across the curved wall. A posted explanation says the installation is supposed to reveal "the idealized landscape to be as manufactured and manipulated as the urban environment." Color coordination -- orange boxes and the orange plaques, a single yellow dandelion in the grass that matches the ducks -- further emphasizes how landscapes are "civilized." Truth is, intentionally or not, the effect is quite pleasing. As a result, Lee's commentary on a serious topic is refreshingly quirky and lighthearted. Through August 8 at MOCA, 8501 Carnegie Ave., 216-421-8671. -- Michel
Daring Decade: Women in the 1920s -- After WWI, American girls wanted to be more independent, and simply constructed, loose-fitting, low-waisted evening dresses made it easy to fox-trot late into the night. One of several examples of the genre is a Lanvin purple chiffon dress, circa 1929; the blouson shape of the top and the ruffles on the skirt have made several reappearances over the decades. Jantzen tested the waters of modesty with a wine-colored, knitted beach garment that might today be called a tankini. But it's the stories behind the clothes that make this a relevant show. Women of the 1920s planted the seeds of fashion as we know it today, when women can wear anything they want. Through October 24 at Western Reserve Historical Society, 10825 East Blvd., 216-721-5722. -- Michel
Emotions of Life -- The works on display at this renovated 19th-century carriage house share a certain poetic, optimistic feel. Venezuelan-born Maria Bertrán explores beauty in aspects of everyday life in large oil compositions, such as "Summer Afternoon," a boldly contoured yet classic nude portrait, and "The Blue Door," featuring a Mediterranean-style doorway and potted flowers. Lisa Hannaford's acrylic work is strongly reminiscent of Matisse's fauve style, with the seductive appeal of a fragrant summer garden: "A Night for Wine II" tantalizes the viewer with its richly hued table adorned with wine, flowers, fruit, and cheese. Walter Sauermann's "Fish Plate" fits in perfectly with this cheerful effect, and his landscapes, such as "Maison Blanche," recall the expressionists' masterful use of light and texture. Through August 20 at La Cachette Gallery (behind Cuffs Clothing), 18 E. Orange St., Chagrin Falls, 440-247-2828. -- Michel
Impressions in Pastel and Watercolor: Paintings by Kim Moore -- Landscapes such as "Fall Approaches," a pastel illustration featuring grass and trees swaying in the wind, impart a sense of quiet change. "Spring Orchard" is equally serene: tracks in the grass lead the eye to a peaceful, tree-lined scene. The natural tones and simplicity exude emptiness and silence; chirping crickets would lend the perfect soundtrack. Moore's whimsical side shows in a series of circus-themed images. "Tent Rising," the largest work here, shows two elephants walking, single file, under a tent. "Red" features a portrait of a lobster that would suit a children's book perfectly. The location for this show, a small glass room in the school's library, make this a unique experience. Through August 31 at Clara Fritzsche Library Gallery, Notre-Dame College, 4545 College Rd., 216-373-5267. -- Michel
Jenny Zito -- Jenny Zito applies paint liberally -- a few 16ths of an inch thick -- and the effect is made even more dramatic by the small scale, which blurs the distinction between painting and sculpture. In addition, viewer must get close to be aware of the diminutive, easily overlooked subjects. Conceptually, her paintings comment on the meaning of family; her use of family photos makes the paintings private and, to a degree, inaccessible. Still, the brilliant colors and intricate detail lend the works an appearance of precious jewelry. The presence of these diminutive pieces on a bare and empty wall could be an expression of the artist's attitude toward the subjects, but it reads equally well as an acknowledgement of their beauty. Through September 10 at Sheehan Gallery, 740 W. Superior Ave., 216-830-8888. -- Chris Kelley
Kelly McLane: My Blue-Green Algae -- Nature's raw power is beautifully rendered in McLane's large-scale graphite-and-acrylic paintings. "Soon on Me," placed at the entrance to a small room dedicated to her work, is the catalyst in a narrative that develops through four images. A tsunami soars over a city, tearing down a bridge in its furor. "Survivor" depicts a lone house drifting, attached to the mainland by cables and afloat thanks to numerous rubber tires strewn about its structure. McLane's watered-down aquas and transparent oranges give the devastation a lightness, perhaps indicating admiration for the planet's ability to transform. As the show's title suggests, the artist is interested in blue-green algae (aka cyanobacteria), believed to have been among the world's first living organisms. Six small figurative graphite drawings show another facet of McLane's original and finely executed vision. "You Pissed Your Pants" and "Hunting Season," for example, showcase emotionally defining moments in children's lives. Through August 22 at the Cleveland Museum of Art, 11150 East Blvd., 216-421-7340. -- Michel
Metro II -- M% gallery's annual show features regional artists. Kathy Lynn's nebulous forms and murky backgrounds on canvas seem personal and contemplative. Recent CIA grad Anne Kibbe furthers Lynn's mood in a series of intaglio prints that lack intense color or definable form, lending an introspective nature that's minimal from afar, tumultuous up close. In contrast, Rita Montlack's hand-painted and vibrantly inked photographs of Cleveland provide a cool-edged release. By juxtaposing and rotating an image four times, Montlack creates a visual puzzle that is superficially entertaining. Through September 2 at M% gallery, 12812 Larchmere Blvd. -- Miller
Modern American Masters: Highlights From the Gill and Tommy LiPuma Collection -- Native Clevelander Tommy LiPuma's eye for art rivals his ear for music. Nominated for 30 Grammys, the renowned producer also cultivated an in-depth knowledge of modern American art, his passion for which is reflected in the 24 works on display. It's an overview of what LiPuma considers to be the best by American modernists from the early 20th century. Indeed, paintings by Marsden Hartley, Arnold Friedman, Arthur Dove, John Marin, and John Graham -- all underappreciated gems -- are perfect examples of how the use of pure, luminous color and intense texture revolutionized the art world and spawned abstract expressionism. A fine initiation to underexposed American talent, the show also highlights the pleasure art can provide for people from all walks of life. Also on view, Burchfield to Schreckengost: Cleveland Art of the Jazz Age (through July 18), a celebration of rarely seen works by other Clevelanders who give the city a good name. Though July 28 at the Cleveland Museum of Art, 11150 East Blvd., 216-421-7350. -- Michel
Off the Wall -- Yumiko Goto's ceramics are the highlight of this group show. An avocado-colored bowl contains cactus-shaped structures and a crystallized turquoise finish on the bottom. At the other end of the spectrum are small, brown, potato-shaped objects with odd protrusions; their purpose and appeal are obscure. In 9-by-7-foot canvases by Jeffery Paul Gadbois (a.k.a. Meat), two figures examine their inner conflicts: "Dawn" features a younger man with heavy frown and laugh lines and bags under his eyes, while "Dusk" shows an older man with a beard. Kristina Good's acrylic paintings are unremarkable swirls of color, creating different "illusions." The standout here is a piece with streams of color coming down its entire length; bulbous shapes at the top of the lines subtly recall long-stemmed flowers. Through September 15 at Kelly-Randal Gallery, 2678 W. 14th St., 216-771-7724. -- Michel
Painting 2004 -- This show features four paintings each from three artists, none of whom is likely to be mistaken for the others. Yong Han employs the same blue-black and white palette in all three versions of "Study Painting for the Nocturnal Landscape Sequence." The dark color swirls all over a masonite board, with various lines of movement and areas where the paint looks as if it had been rubbed off. Artemis Herber's urban-inspired work takes seemingly lifeless subjects (such as "Parking Lot" and "Freeway") and makes them playful and almost organic. The highlight is Matthew Kolodziej's work, with its abstract use of architecture and landscape. His paintings are just complex enough to balance the lack of clear meaning. Through August 6 at Heights Arts, 2173 Lee Rd., 216-371-3457. -- Michel
The Quilts of Gee's Bend -- Stitched together from old dress tails, work pants, and other scraps, the quilts of Gee's Bend were made out of necessity. They are the product of four generations of women in Arkansas who, through quilting, created a community. Against the stark white walls of the museum, the quilts hold their own as radiant artistic objects. Irregular shapes are intricately mixed with varying patterns of color, fabric, and stitching. The resulting richness and cohesion of abstract forms and hues make it difficult to imagine the quilts anywhere but in a museum. Though never so intended, the quilts challenge notions of beauty, wealth, tradition, and knowledge. Through September 12 at the Cleveland Museum of Art, 11150 East Blvd., 216-421-7340. -- Miller
Rona Pondick: Recent Work -- Futuristic, genetically modified creatures collide with mythology in Rona Pondick's impressive and disturbing work. Scattered about the gallery floor are stainless steel curiosities like "Dog," a human-headed canine figure, and "Monkeys," a tangled grouping of primates with humanlike heads or arms. The bodies shine like liquid mercury, while the human parts have a matte finish. The sophistication of Pondick's technique further boggles the mind: The artist cast her own head and body parts and used 3-D computer scanning to reproduce and scale down the molds. "Monkey With Hair" features Pondick's face on a monkey's body that is covered with synthetic fur. Eerily thought-provoking, Pondick's body of work is also decidedly elegant. Through August 8 at MOCA, 8501 Carnegie Ave., 216-421-8671. -- Michel
Senenkunya: Many Voices, One Family -- Everyday objects displayed in their cultural context create an intimate portrait of life in West Africa. Photographs by Peggy Turbett (photo editor for The Plain Dealer) document her visit to Mali in 2002: Colorful rituals and the daily tasks of women are pictured in vibrant, large-scale images, revealing an alternative West African reality that has nothing to do with war or poverty. On the main floor, artifacts are displayed alongside life-sized reproductions of village homes and other structures. Among the highlights: the Toga, a decision-making area with a low ceiling that forces village men to sit down, thus eliminating height inequalities that might upset the balance of power. Another realistic scene is a market cart, strewn with hanging fruit and resting alongside the facade of a 13th-century mud mosque. In this way, utilitarian objects take on resounding new life as art. It's an engaging, hugely enlightening experience. Through August 29 at the Museum of Natural History, 1 Wade Oval Dr., 216-231-4600. -- Michel
Summer Show: HOT -- Every week through the summer, sold pieces will be replaced. That and the variety of art on display make this a show worth visiting more than once. Brent Kee Young's glass vessels are intricate networks of Pyrex glass tubing. Each has subtle variations in color only visible under the right light. A.D. Peters uses old postcards and unconventional materials with his oil paints to create images like Pristine, a white rose framed in slate. And Susan J. Stoczen makes her art practical: 10 brooches, made of semi-precious metals and embellished with various shells and beads, are framed in pine boxes. The brooches can be either hung on a wall or taken out of their frames and worn. Brent Marshall's colored-glass "walls" are reminiscent of stained-glass church windows, making them part furniture, part art. Through September 18 at Thrive -- An Artspace, at The Galleria, 1301 E. 9th St., 2nd floor, 216-479-0303. -- Michel
The Usual Suspects -- After a yearlong sabbatical, Buzz Gallery is showcasing artwork by its diligent staff -- a group of young artists dedicated to offering Clevelanders a vibrant art scene and affordable works with price tags as low as $10. Brian Kelly has created graphic, stylized prints whose swirling text appears softly lyrical until closer inspection reveals its sardonic undertones, as in the print titled "This is me . . . making the best out of a bad situation." Colin Toke's black-and-white prints "Pin Head," "King Lord Rite," and "King Lonely Left" portray oddly charming figures reminiscent of Tim Burton characters. Bridget Ginley's pastel-colored abstract paintings remain lighthearted. All of the artists are still refining their style, lending a gritty quality to their final product. Artwork by the budding artists will be on view for budding collectors through July 30 at Buzz Gallery, 1836 W. 25th St., Suite B, 216-522-1836. -- Miller
Valley of Fire: Photographs From the Nevada Desert -- With 12 images that capture scenes of wind-carved rock formations and a cattle ranch, Cleveland photographer Jim Metrisin leads an ethereal journey through the rocky, mysterious Nevada desert. "Spring Mountain Ranch" has a particularly dream-like quality, with grazing animals set behind large trees with white leaves -- white because Metrisin uses high-speed black-and-white infrared film, which captures the infrared radiation reflected by the trees. The film also captures some ultraviolet radiation and all wavelengths of blue, resulting in grainy detail and high contrast. The sky of "Atlati Rock," an image of a rock formation full of grooves and holes, is filled with stringy, almost cartoonish clouds. "Petroglyph" shows cryptic spirals drawn on a rock's flat surface. The images suggest that while both nature and man have shaped this land over thousands of years, it remains pristine. Metrisin's technique powerfully conveys the awe-inspiring desert experience. Through August 7 at ArtMetro, 530 Euclid Ave., Suite 43, 216-696-1942. -- Michel
Wet Oxygen -- Illinois artist Leo Grucza raises a universal theme in his large acrylic and oil interpretations of aquatic life and water. In "Traffic," fish-like figures are suspended, vertically aligned, in fluid color. The wet oxygen is sometimes blue, as in "Surface Tension," but usually abstract and richly hued. Our own origins, both in the womb and as water-dwelling creautures in the early stages of evolution, are symbolized in most of his work; each painting's meaning seems to stem, sometimes loosely, from that thought. In "Echoes," channels of liquid seem to be circulating, creating a current that might be interpreted as a life force or as the metaphorical currents that guide us. His color palette runs the gamut from dark reds to soft lavenders, and his handling of the medium is as controlled as it is expansive. Also on view is "Becoming," a site-specific drawing by David Pohl, created especially for this summer's city-wide Buddha Project. Through September 10 at Gallery Ü, in the Colonial Marketplace ARTCade, 530 Euclid Ave., Suite 30, 216-323-0085. -- Michel