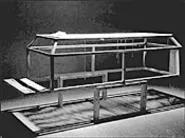 So Yeon Parks caskets resonate with peacefulness and hope. Theyre at the Sculpture Center through September 17.
A Different Direction --
Michael Castellana's sculptures call into question the conditioned responses of the viewer. Each is a traffic sign about three inches thick, made of lead; the letters are defined by relief. The solid finality goes beyond the mundane purposefulness of a street sign, and each work's powerful presence makes the viewer's emotional response to the signs somehow irrelevant. At the same time, however, the lack of color in the signs challenges their authority. Through September 25 at Pavanna Gallery, 2250 Professor St., 216-771-9811.
-- Chris Kelley
Andrew Wyeth: The Helga Pictures -- Andrew Wyeth created 240 images of his Pennsylvania neighbor Helga Testorf between 1971 and 1985. His obsessiveness resulted in work imbued with tension and emotion that smoldered between the observer and the observed, and bordered at times on the voyeuristic. Helga is depicted nude and clothed, reclining and standing, indoors and outdoors. She is always shown alone; the artist never seems far away. The pictures are immaculately rendered in watercolor, drybrush, pencil, and tempera, confirming Wyeth's status as an American master. Studies alongside completed works allow the viewer to experience the artistic process, complementing the existing intimacy of the exhibition. Seventy of Wyeth's Helga pictures make up this stunning exhibition, on view at the Canton Museum of Art through September 19, 1001 Market Ave. N., Canton, 330-453-7666 -- Tami Miller
Clarence Carter: The Unknown Snapshot Studies -- Carter's oil and watercolor paintings are almost all close reproductions of photographs he took. The snapshots, most taken in the 1930s and '40s, were discovered among the late artist's belongings; here, 148 such pictures are paired with 21 works they inspired, lending a documentary air to the display. "The Good Crop," a 1942 painting featuring a man driving his potato crop to the market, is nearly identical to an undated Carter photo; only the perspective is different. Carter never mentioned these pictures, so seeing the evidence is like being let in on a secret. Through September 18 at Beck Center, 17801 Detroit Ave., 216-227-9507. -- Nadia Michel
Daring Decade: Women in the 1920s -- After WWI, American girls wanted to be more independent, and simply constructed, loose-fitting, low-waisted evening dresses made it easy to fox-trot late into the night. One of several examples of the genre is a Lanvin purple chiffon dress, circa 1929; the blouson shape of the top and the ruffles on the skirt have made several reappearances over the decades. Jantzen tested the waters of modesty with a wine-colored, knitted beach garment that might today be called a tankini. But it's the stories behind the clothes that make this a relevant show. Women of the 1920s planted the seeds of fashion as we know it today, when women can wear anything they want. Through October 24 at Western Reserve Historical Society, 10825 East Blvd., 216-721-5722. -- Michel
Drive-In Tales -- One year ago, photographer Karen St. John-Vincent took in a drive-in movie and was inspired to capture the essence of the audience. While certain images, such as "Double Feature I" and "Double Feature II," present a believable mood with their relaxed, captivated characters, others appear posed; the stylish young couple featured in "Yellow Car," for example, look like fashion models. Vincent's slick images include other edgy youths as well as shots of middle-aged spooning, rustic landscapes, and a variety of bodily expressions ranging from absorption to angst. Her work makes the subject matter more cinematic than its theme. Through October 2 at ArtMetro, 530 Euclid Avenue, 216-696-1942. -- Miller
Four Caskets Project -- Artist So Yeon Park began exploring the theme of death following the burial of her father. Drawing on traditional Korean ceremony as a means of emotional release, Park's caskets are the product of her own personal process. Made of open wooden frames, the caskets display a variety of symbolic materials including string, bells, and colorful paper flowers. Their forms are imbued with a sense of movement and continuity. "String Casket" has white string wrapped across the top of its frame but remains unfinished. The leftover mound of string on top appears to be a reminder that death is not necessarily an ending. "Flower Casket" has more intricate string flowing down its center, which is topped with flowers. Its feminine intricacy is lyrical, as if it were a stringed instrument. All of the caskets are thoughtfully constructed, but all have imperfections -- loose strings. Park's caskets resonate hope, peacefulness, life, and death, providing an opportunity for meditative reflection. Through September 17 at Sculpture Center, 1834 East 123rd Street, 216-299-6527, www.sculpturecenter.org. -- Miller
Future Cities: New Works by Nathan Wasserbauer -- These paintings explore the relationship between the rational and the whimsical. Each is composed of erratically wandering lines following an irrational path, circuitously filling the canvas. Other paintings feature cartoon-bubble shapes and fields of parallel vertical lines. While the placement and shape of each element appears random, the interaction -- where they overlap -- is rationalized. The lines weave over and under each other. The name of the show implies that cities are created by thoughtless gestures becoming complex networks: Though much thought is put into each street and bridge, in the future these decisions may appear arbitrary. The analogy can be extended to living with decisions that shaped our lives. Through September 11 at Groop, Suite 41 in the 530 Euclid Avenue ARTcade, 216-496-4913. -- Kelley
Jenny Zito -- Jenny Zito applies paint liberally -- a few 16ths of an inch thick -- and the effect is made even more dramatic by the small scale, which blurs the distinction between painting and sculpture. In addition, the viewer must get close to be aware of the diminutive, easily overlooked subjects. Conceptually, her paintings comment on the meaning of family; her use of family photos makes the paintings private and, to a degree, inaccessible. Still, the brilliant colors and intricate detail lend the works an appearance of precious jewelry. The presence of these diminutive pieces on a bare and empty wall could be an expression of the artist's attitude toward the subjects, but it reads equally well as an acknowledgment of their beauty. Through September 10 at Shaheen Gallery, 740 W. Superior Ave., 216-830-8888. -- Kelley
Matthew Robinson -- These small, understated, and tasteful compositions of black line on white paper appear to be created on a computer and printed, with a photograph as the source material. The line traces the shapes of absent shadows and variations of tone; its nervous energy is amplified by the appearance of the human figures, some of whom are talking on cell phones or smiling. The isolation of the line is echoed by the figures, which have neither background nor surroundings. The figures themselves project an image of confidence, but the perfectly unvarying and consistent line has a lifeless, mechanical quality. Its path, subordinated to the images of people, betrays a degree of uncertainty in its nervous, restless activity. At Buzz Gallery until October 1. 1836 W. 25th St., Suite B, 216-522-1836. -- Kelley
Motion and Texture -- Elise Newman, a Cleveland artist, doesn't try to overcontrol her media. She works with them, letting watercolors run, pastels be chalky, and handmade fibers be bulky, while creating wonderfully vibrant and intuitive works of abstract art. In a small watercolor collage on paper titled "The Garden," Newman creates an intimate work with colorful detail. Her artwork is paired with that of Venezuelan sculptor Gisela Raffalli, whose bronze sculptures feature strong, voluptuous women. "Estirandose" is a figure of a woman stretching from a golden hoop. Only the barest essentials of her figure are defined, turning her hearty figure into a lush outline of green patina. The contrast of styles and media works well in this exhibit. Through October 20 at La Cachette Gallery, 20 E. Orange St., Chagrin Falls, 216-401-8920 -- Miller
Nature Sublime: Landscapes From the Nineteenth Century -- On display are Japanese prints from the 1800s and paintings, drawings, and prints from France, England, Germany, and America, all of which capture the spirit of Romanticism. Witnessing the industrial revolution, these artists yearned for a simpler life close to nature and sought inspiration in landscapes. Simultaneously in France, prints from Edo, Japan (now Tokyo) were prized, and Western artists adopted Japanese compositional devices like asymmetry, the approach to perspective and attention to decorative detail. The similarities are apparent in the colorful lithographic prints of Henri Rivière: Planes of color, rather than strokes or lines, describe landscapes, lending a cartoon quality to his and the Japanese prints. Edo was a city mostly of men; the samurai left the countryside for the pleasure district of Edo because the firmly established authority of the shogun precluded armed rivalries, making the samurai virtually obsolete. The prints reflect this lifestyle, referred to as "Ukiyo-e," the floating world, and a life without any real foundation, depicting the transitory nature of life. Through November 14 at the Cleveland Museum of Art, 11150 East Blvd., 216-421-7340, www.clemusart.com. -- Kelley
Off the Wall -- Yumiko Goto's ceramics are the highlight of this group show. An avocado-colored bowl contains cactus-shaped structures and a crystallized turquoise finish on the bottom. At the other end of the spectrum are small, brown, potato-shaped objects with odd protrusions; their purpose and appeal are obscure. In 9-by-7-foot canvases by Jeffery Paul Gadbois (a.k.a. Meat), two figures examine their inner conflicts: "Dawn" features a younger man with heavy frown and laugh lines and bags under his eyes, while "Dusk" shows an older man with a beard. Kristina Good's acrylic paintings are unremarkable swirls of color, creating different "illusions." The standout here is a piece with streams of color coming down its entire length; bulbous shapes at the top of the lines subtly recall long-stemmed flowers. Through September 15 at Kelly-Randall Gallery, 2678 W. 14th St., 216-771-7724. -- Michel
Personal Prism: The Art of S.C. Versillee -- On the wall label accompanying a painting of a blue morphos butterfly, Versillee compares the insect's ability to filter blue prisms of light into the scales of its wings to her own ability to filter beauty into her paintings. Created with oil on canvas and digital art, Versillee's images do attain a certain degree of opulence with their rich, earthy palettes, but her subject matter remains a cliché. Pictures of exotic women, angels, horses, and unicorns are executed in an illustrative style, ideally suited for the covers of sci-fi thrillers. The artist tends to flatten her figures with decorative backdrops and keeps most of her works symmetrically balanced. In the painting "Ishtara," the focal point, a female's striking profile, loses its dimensionality against the geometric pattern painted on the wall behind her. Through October 3 at the Shaker Heights Public Library, 16500 Van Aken Blvd., 216-991-2030. -- Miller
The Quilts of Gee's Bend -- Stitched together from old dress tails, work pants, and other scraps, the quilts of Gee's Bend were made out of necessity. They are the product of four generations of women in Arkansas who, through quilting, created a community. Against the stark white walls of the museum, the quilts hold their own as radiant artistic objects. Irregular shapes are intricately mixed with varying patterns of color, fabric, and stitching. The resulting richness and cohesion of abstract forms and hues make it difficult to imagine the quilts anywhere but in a museum. Though never so intended, the quilts challenge notions of beauty, wealth, tradition, and knowledge. Through September 12 at the Cleveland Museum of Art, 11150 East Blvd., 216-421-7340. -- Miller
The Reverend and Michaelangelo -- Reverend Albert Wagner has been painting for 30 years, ever since a leak in his radiator led him to an epiphany by the side of the road. With no formal training, he has created a massive body of work that has received national attention. His images, made of whatever materials he can find, recall the art of Picasso and the German Expressionists with its abstract forms, bold colors, and heavy black lines. Titles such as "Look to Mama" and "Baby, Please Take Me Back" allude to the personal nature of his work, yet their themes remain universal. Michaelangelo Lovelace, a friend of the reverend's, looks to him as a mentor. Relying heavily on text in the form of billboards and business signs, Michaelangelo's stretched canvases with acrylic paint critique the paradox-laden urban environment: Police cars drive alongside drug dealers, while 12-step programs are located next to bars and strip joints. Together, the two artists create a dynamic and affecting exhibition. On view through September 26 at Headfooters Gallery, 12610 Larchmere Blvd., 216-795-1668 -- Miller
Summer Show: HOT -- Every week through the summer, sold pieces will be replaced. That and the variety of art on display make this a show worth visiting more than once. Brent Kee Young's glass vessels are intricate networks of Pyrex glass tubing. Each has subtle variations in color only visible under the right light. A.D. Peters uses old postcards and unconventional materials with his oil paints to create images like Pristine, a white rose framed in slate. And Susan J. Stoczen makes her art practical: 10 brooches, made of semiprecious metals and embellished with various shells and beads, are framed in pine boxes. The brooches can be either hung on a wall or taken out of their frames and worn. Brent Marshall's colored-glass "walls" are reminiscent of stained-glass church windows, making them part furniture, part art. Through September 18 at Thrive -- An Artspace, at The Galleria, 1301 E. 9th St., 2nd floor, 216-479-0303. -- Michel
Trophies of the Hunt: Capturing Nature as Art -- Beautifully rendered photographs from the Cleveland Museum of Art's permanent collection celebrate the macabre ethos of the hunt. Intended to capture nature, several of the images instead relay death. The most disturbing image is Joel-Pete Witkin's 1990 photograph "Feast of Fools." Arranged as a still life, the photo includes decaying fruit and vegetables amid severed hands, feet, and even an infant corpse. Drawing on a long tradition of imagery in still-life painting, this picture is reminiscent of the work of the French painter Géricault. Other, less haunting items are snapshots of individuals who display such prizes as a fish, a swan, and a pig's head. One charming photograph, by Cleveland native Barbara Bosworth, shows fireflies in a jar. Comparing hunters and photographers, the show effectively relays how grim subject matter can become a visual feast. Trophies of the Hunt will be on view through November 3 at the Cleveland Museum of Art, 11150 East Blvd., University Circle, 216-421-7340 -- Miller
Wet Oxygen -- Illinois artist Leo Grucza raises a universal theme in his large acrylic and oil interpretations of aquatic life and water. In "Traffic," fish-like figures are suspended, vertically aligned, in fluid color. The wet oxygen is sometimes blue, as in "Surface Tension," but usually abstract and richly hued. Our own origins, both in the womb and as water-dwelling creatures in the early stages of evolution, are symbolized in most of his work; each painting's meaning seems to stem, sometimes loosely, from that thought. In "Echoes," channels of liquid seem to be circulating, creating a current that might be interpreted as a life force or as the metaphorical currents that guide us. His color palette runs the gamut from dark reds to soft lavenders, and his handling of the medium is as controlled as it is expansive. Also on view is "Becoming," a site-specific drawing by David Pohl, created especially for this summer's city-wide Buddha Project. Through September 10 at Gallery Ü, in the Colonial Marketplace ARTCade, 530 Euclid Ave., Suite 30, 216-323-0085. -- Michel