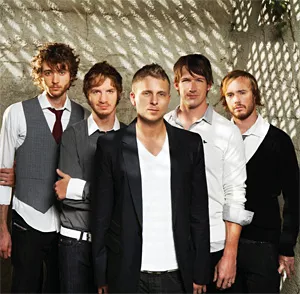 OneRepublic leaves the basement, comes to House of Blues.
No one really considers filthy-rich old-fart Rupert Murdoch a shrewd record-company exec. But the Fox media mogul has catapulted tons of bands onto folks' iPods and into record stores over the past couple years for one simple reason: He owns MySpace. So, when you think about it, the dude could very well be one of music's most valuable behind-the-scenes players. Alt-poppers OneRepublic should certainly give Murdoch props. Thanks to loads of MySpace traffic, the Colorado-based quintet snagged a record deal with mega-famous hip-hop producer Timbaland.
And while Timba's picks have been a bit hit-and-miss lately, his remix of OneRepublic's "Apologize" was a huge success, topping the charts worldwide. Granted, Justin Timberlake's BFF barely altered the group's original tune, except for adding a "hey" or two here and there. But "Apologize" is a key track on Timbaland's solo CD, Shock Value. It's an unlikely pairing, since the guitar-, piano-, and cello-speckled ballad has little in common with the hip-hop grooves that populate the rest of Shock Value. The song now serves as the centerpiece of OneRepublic's own debut album, Dreaming Out Loud. Timbaland won't be around when the group plays live this week. Good thing, since fewer beatbox distractions mean more chances to hear what netted OneRepublic all those MySpace friends in the first place.