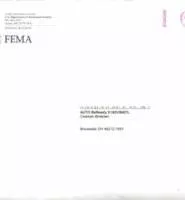 The Department of Homeland Security actually mailed this.
Ever wonder if anybody in Washington is paying attention? Joel Foose, a flooring deliveryman from Brunswick, did. So in May, when he requested a copy of a threat-readiness brochure from the Department of Homeland Security, he gave the automated operator a fake name: Osama bin Laden.
"I fully expected to get a phone call or have the men in black kick in my door," he says.
But that didn't happen. When the brochure arrived, it indeed had Osama's name on it, albeit spelled wrong. (If Homeland Security can't even spell bin Laden's name right, how the hell are they gonna find him?)
Now Foose is wondering if he should sell the Osama-addressed brochure on eBay. "But I don't want people showing up on my doorstep, saying they see Jesus in the wood grains."
Why not? We already sold the rest of Homeland Security to the highest bidder.