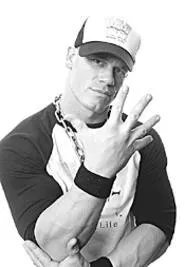 Ric Flair is guilty of many things, but false modesty is not one of them. The white-haired former college-football standout, who switched to wrestling 32 years ago, ranks himself among the greatest -- not just in wrestling, but in all entertainment. There are only three genuine legends: "The first being Frank Sinatra. The second being the King, Elvis Presley. And the third being the biggest legend in the history of this sport," boasts Flair, known for his signature figure-four leg-lock. "You know it -- Ric Flair is the biggest legend in wrestling."
He'll try to prove his point at the WWE Survivor Series on Sunday. The wrestlin' fest debuted in 1987 (at Richfield's Coliseum, now closed) and still ranks among pay-per-view's top-rated programs. Pitting wrestlers from WWE's two brands -- Raw and Smackdown -- against each other, the series has made household names out of such grapplers as the Big Show and Kurt Angle (pictured), an Olympic gold-medalist in freestyle wrestling. At the podium of a news conference at Gund Arena, the 7-foot-1, 470-pound Big Show, attired in a natty black business suit, towered over Angle. "I'm sure there are some people with the courage to step in the ring and rock and roll one more time, won't we, Olympic boy?" sneers Big Show, mangling syntax as he would so many pencil-neck geeks. "I like his shaved head. It makes me feel real smooth."
Also feeling smooth is "Babe of the Year" Trish Stratus, the most decorated diva in the WWE stable of women wrestlers. Since the distaff division was founded in 2000, the buxom blonde has claimed the title every year. "It's been four years of kicking ass and taking names," brags Stratus. "I proudly defend my title in a French maid's uniform."
WWE founder Vince McMahon won't miss it. "Whenever we have this eclectic group under one roof, there's no telling what'll happen," says McMahon. "I just promise we're going to raise some hell."