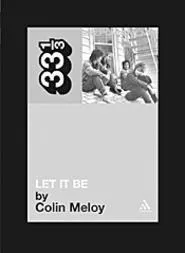 Colin Meloy's treatment of the Replacements' Let It Be operates as a sweet Huckleberry Finn coming-of-age story.
In 2002, while holding court in his office overlooking N.Y.C.'s Madison Square Park, David Barker -- a friendly young Englishman editing a series of chapbooks on contemporary American fiction -- decided that it might be nice to produce a set of books focused not on specific novels, but on specific albums. A motley collection of musicians, critics, writers, and miscellaneous hangers-on would each devote 25,000 words to whatever record happened to fascinate them, from Dusty Springfield to Joy Division to DJ Shadow.
Not quite three years later, Barker's "great idea" has evolved into the 33 1/3 series: a stream of affordably priced (less than $10 apiece) and conveniently sized (they fit in your back pocket) books as individualistic and idiosyncratic as the albums that inspired them.
Joe Pernice's Meat Is Murder, currently the best-selling of the collection, is a novella. Douglas Wolk's Live at the Apollo is written against the backdrop of the Cuban missile crisis. Franklin Bruno's Armed Forces is structured alphabetically (R is for Rock Against Racism), and Colin Meloy's treatment of the Replacements' Let It Be operates as a sweet Huckleberry Finn coming-of-age story, with the legendary indie cassette as its soundtrack. To date, a total of 23 chapbooks have been published, with four more (on Kick Out the Jams, Low, Born in the USA, and Endtroducing . . . ) due out in September.
For the initial half-dozen titles back in 2002, Barker scoured newspapers, books, blogs, and his own record collection in search of the right musicians and critics who might bring his idea to life. But it wasn't until the English writer Andy Miller's manuscript for the Kinks' Village Green Preservation Society landed on his desk that Barker was convinced he was on the right track. The editor experienced "an overwhelming sense of relief and happiness that this guy had completely understood what I was trying to get people to do."
And what's that, exactly? "Um, well, it varies, doesn't it?" Barker offers. "I think it's a mix. I think you've got to have research. I would like you to come up with some original material that no one has written about or known before. And a personal angle that kind of brings it to life for the reader."
For any music fan with even a suppressed desire to write, it's nearly impossible to hold a 33 1/3 book in your hand and not think, "What album would I write about?" And so we accosted writers and musicians and some of our more literate friends, and popped the question: What album would you write 25,000 words on?
The Who, Live at Leeds
"Consistently picked as the best live album of all time, Live at Leeds holds special meaning for me, because it's how I learned to play the guitar. The way it was mixed helped a lot -- the drums and vocals are straight up the middle, the bass is panned all the way to one speaker, and the guitar is panned to the other, so if you turn off one speaker you have Pete Townshend playing guitar live (with no studio overdubs or trickery) on a magical night for you to steal riffs from. It's the best unintentional guitar lesson of all time." -- Kevin Bowe, producer, songwriter, and guitarist for Paul Westerberg & His Only Friends
Joni Mitchell, The Hissing of Summer Lawns
"It's the record where she started to lose people due to her burgeoning jazzbo streak, but also because she went from the confessional 'I' and pulled a Dylan, and started using 'you.' It's deep and deeply misunderstood, and packed with feminist narratives she insists are not feminist. It'd be a great one to unpack and untangle." -- Jessica Hopper, editor, Hit It or Quit It
Public Image Ltd., Metal Box
"Given the turnaround time from punk icon to yesterday's news, Johnny Rotten created a blueprint for the fusion of house, dub, punk, electroclash, and avant-garde experimentalism long before some of those styles existed . . . on a major label budget, no less." -- Kevin Chanel, editor, ChinMusic
The Mekons, The Mekons Rock 'n' Roll
"Yeah, I get teased for declaring the Mekons as my favorite band in the whole world, since I'm not old, balding, or a man (the band's been around longer than I've been alive). But when Jon Langford yelps, ŒI was born inside the belly of rock and roll!,' it seriously has to be one of the greatest rock moments ever." -- J.P. Pfafflin, publicist, Bloodshot Records
Geto Boys, The Geto Boys
"The Geto Boys caused so much controversy at the time, it'd be fascinating to navigate the multi-angled stories behind the production, camaraderie, aftermath, shit storm, and resultant lasting influence." -- Todd Inoue, music editor, San Jose Metro
Sarah McLachlan, Surfacing
"Surfacing was an extremely special album at an influential time in my life. It influenced me deeply, and it still resonates. She's got one of the most controlled voices . . . She's the Chris Cornell of her genre. Her wide range of melody is ridiculous. The songs are so sincere, you can tell she was documenting something special to her, and it forces the listener to relate even more. It's so melodic and hooky and beautiful." -- Donald Carpenter, singer, Submersed
Beach Boys, Pet Sounds
"The only album I could fathom using said word allotment for. A psychedelic soundtrack to California sunshine, while still retaining a charming self-pity . . . It has never stopped sounding challenging, yet still so friendly to ears of all ages. Plus, how fun would it be to conclude by drawing parallels to . . . Wilson Phillips!" -- Robert Suchan, singer-guitarist, Koufax