NOTE: Due to the COVID-19 pandemic, please check with venues to make sure scheduled events are still going on. We also recommend checking up on the individual events' safety protocols before heading out. Stay safe and respect others.
Peninsula Flea at Heritage Farms – Our second socially distanced season
When: Sat., June 5, 10 a.m.-4 p.m., Sat., June 26, 10 a.m.-4 p.m., Sat., July 3, 10 a.m.-4 p.m., Sat., Aug. 7, 10 a.m.-4 p.m. and Sat., Aug. 21, 10 a.m.-4 p.m.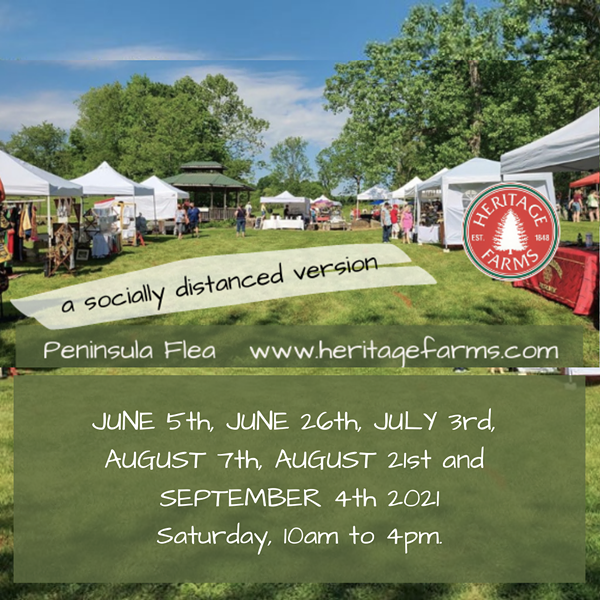 Come enjoy our upscale market with high quality handmade, repurposed and vintage items from dedicated artists, crafts people and collectors. You'll enjoy shopping out under the trees, in the barns and down in the field, with 65 plus amazing artists and vintage vendors. Face masks required. Sorry, no pets. Rain or shine, no entry fee to attend and plenty of free parking. The 2021 dates are June 5th, June 26th, July 3rd, August 7th, August 21st and September 4th, Saturdays from 10-4. Spend some time this summer on our spacious family farm and support our vintage and handmade vendors.
Price: free to shop