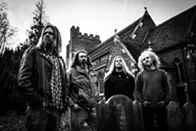 Sometimes you get wrapped up with a certain project and lose track of time. If you're Pepper Keenan of Corrosion of Conformity, before you know it, nearly a decade has gone by. At the time that the North Carolina-based band released its 2005 album,
In the Arms of God
, it had been working at a steady pace recording and touring for more than 15 years (with Keenan at the helm on vocals since 1993).
[jump] But after wrapping up the tour cycle for the album, the members went their own separate ways and Keenan found himself increasingly more wrapped up with Down, the sludge metal collective that first developed as a side project for Pantera's Philip Anselmo and an all-star cast of players, including Keenan, who handles guitar duties for the group. After releasing albums in 1995 and 2002, Down continued to build steam, touring and releasing new music. The remaining members of Corrosion of Conformity regrouped in 2010 as a power trio with bassist Mike Dean handling the vocals and brought drummer Reed Mullin back into the fold for the first time since 2001. As Keenan reflects now, life moved forward for all involved at a pace that felt natural and everybody kept in touch.
"The label [Sanctuary Records, who had released
In the Arms of God
] folded, and I just kind of stepped away and focused on Down for a while and moved back to New Orleans," Keenan recalls in a phone interview. "I wasn't in North Carolina anymore. I started working with Down and doing all of that stuff and you know, that just grew into a giant behemoth and the next thing I know, it was years later. And we always talked, we played festivals together when they were doing the three-piece thing and I'd get up and jam with them and you know, it's just timing, man. I'm not going to beat myself up and down about things. It was time to do it and the pressure was building between us and the opportunities were there. Some people suggested we go to Europe and we went to Europe and it went really well. They brought us back two more times over the summer to play different festivals with like three week's notice, which was unheard of. We're playing well. It's not rocket science, you know, we've still got it."
Conversing with Keenan and taking a quick look at recent YouTube footage of some of the blistering performances since they've come back, it's clear that it didn't take much time for the band to shake off any musical rust that might have been present since the last time it played shows with Keenan nine years ago. A hefty chunk of the current setlist comes off of the 1994 album Deliverance, a fan favorite, which found Keenan, who had been with the group since 1989, taking on the role of frontman for the first time. That proved to be a great move and the band went on to release three more albums in that configuration prior to the break. They're focusing on the old stuff on this run, but the veteran vocalist will be the first to tell you that the reactivated group isn't on a nostalgia trip.
"I'm not a nostalgic person. I never thought I'd be that band doing the reunion shit," he admits. "And to be honest with you, we don't even look at it like that. But I can understand that, because some of the songs are fuckin' 20 years old. I'm really bad with time."
Happily, the band is mapping out plans to record new music for an album that will be released by Nuclear Blast. Veteran A&R man Monte Conner, well known for his legendary 25-year stint at Roadrunner Records, signing artists like Slipknot, Sepultura, Type O Negative, Machine Head and countless others (including Cleveland's Chimaira), put a heavy push on getting the group locked in to record new music for the label.
"They came to us, man," says Keenan. "Straight up. I mean, Monte was emailing us, 'How are you guys doing? Are you writing songs? What's happening — keep me posted.' Way above and beyond any other label out there. We were talking to a bunch of labels and he was adamant and there was no question. We didn't even think about it once those guys were in the picture. It's a great label and I like it a lot. I like the way they operate, they're giving us freedom and a very fair record deal, which is probably pretty rare these days. It's great, man."
Keenan says that they're working with a loose timeline — or perhaps even no timeline, when it comes to establishing when the album will come out.
"I'm not really sure [when we'll have something out]," he says. "Even the Nuclear Blast people, they're like, 'We don't care — just give us a great record.' Nobody remembers when the good records came out — they just remember the record down the line. It won't be that long, but it's going to take time and effort for sure."
Recording an album with Corrosion of Conformity is a different process compared to how Keenan has been used to working with Down in recent years. With Down, he points out, there are no producers. "We just do our own thing, which is fine, but I enjoy having an outside opinion that I admire and trust, to make sure that you're not getting too cornered into something. Sometimes you don't realize it until you're already stuck in the corner.
"Doing an entire album with C.O.C. is a giant order," he explains. "It's gotten to be a well-organized novel by the time it's done. It's not just a collection of songs — it's got to have purpose and flow. It's an extremely difficult thing to do at the level that we're shooting for. We don't just spit 'em out and throw 'em on tape."
But no worries, he's got no shortage of ideas on tap for new music. As it turns out, even during his time away from the band, he kept stockpiling musical thoughts.
"I've been keeping tabs on that for a long time. I'm kind of ahead of the game," he says. "You know, we've got riffs and lyric ideas and things that I've been saving.
In The Arms Of God
is kind of the catalyst of where we take off from there. That record's about as good as I can do it. I'll tell anybody that. I was on my A game at that point with all different types of songwriting all of the time."
For the moment, Keenan is stoked to bring the C.O.C. army back to Cleveland.
"I've been there so many times, I can't even count," he says with a laugh. "I'm glad to be back with C.O.C. and I hope everybody comes and enjoys the show. We don't take it lightly."
Corrosion of Conformity, Brant Bjork, Saviours, Mothership, 6 p.m. Saturday, Nov. 28, Odeon Concert Club, 1295 Old River Rd. Tickets: $15, ticketweb.com.