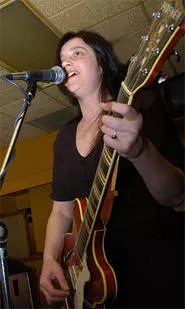 Holly Golightly at the Beachland.
Christopher O'Riley
makes the jump from NPR to PBS -- while still finding time to rock out a little.
This month, the Cleveland pianist's From the Top: Live from Carnegie Hall will make its debut on PBS (check your local listings for air dates). A fixture on public radio since 2000, the popular From the Top airs on 250 stations. The classical outreach program profiles teenage musicians, then presents them in concert. O'Riley has already taped 13 half-hour television episodes from Carnegie Hall's Zankel Hall, bringing his signature humor and lighthearted approach to the show.
"Talking to kids who are classical musicians and are normal kids gives the audience a really nice sense of the performers as people," says O'Riley. "And therefore, they're able to give the music a shot."
Splitting his time between Sagamore Hills and Hollywood, O'Riley tours the country, taping his show and performing classics both solo and with symphonies. Since 1982, he's recorded 13 classical albums for labels such as Nonesuch, home to the Black Keys and Randy Newman.
O'Riley broke into the rock market in 2003. A voracious Radiohead fan, he started playing snippets of the band's songs as break pieces for his radio show. In response to fan interest, he recorded True Love Waits: O'Riley Plays Radiohead, performing solo adaptations on a nine-foot Steinway grand piano. This month, he released New Second Grace: Music of Nick Drake on World Village Records.
"Most of the music I arrange has intricacies that make it inspiring," O'Riley says of Drake's songs. "The harmonic frameworks sort of make your spine tingle. That's something that gets me, whether I'm playing Radiohead or Shostakovich."
· Original Shok Paris drummer Bill Sabo suffered fatal heart failure Friday, March 16. He co-wrote much of the group's material and coined the band's name. The group -- one of the city's most popular metal acts in the '80s -- signed to IRS/MCA records for two albums and still have an international cult following. A memorial will be held 2 p.m. Saturday, March 31 at United Methodist Church (4200 Pearl Road, Cleveland).
"Bill was a very well respected member of the Cleveland metal community and an absolute pleasure to work with," says Bill Peters, host of WJCU's Metal on Metal and president of Auburn, the group's longtime local label. "He will be missed."
· Dead Letter Room has signed to Stow's Lightning Rock Records, whose roster includes Fangboner. The lush power duo will open for Humanwine (which features the Dresden Dolls' Brian Viglione), Friday, March 30 at the Grog Shop (2785 Euclid Heights Boulevard). That night, Dead Letter frontman David K will have an opening reception for his art display at the Grog's downstairs B-Side Liquor Lounge, from 7 to 9 p.m.
· Rap star Mike Jones will make four appearances Saturday, March 31. At 12:30 p.m., he'll greet fans at Akron's 2 Live Music (1286 Wooster Ave., 330-869-2104). At 9 p.m., he'll perform at MTV's Super Sweet 16 Party at House of Blues (308 Euclid Ave.). At 10:30 p.m., he'll sign autographs at a listening party for his new album, Mr. Jones, at Club Ignite (4025 W. 119th St.). At 1 a.m., he'll make a brief appearance at Metropolis (2321 Elm St.).
· Akron punks Dropgun return to the stage Friday, March 30 at Annabell's (784 W. Market St., Akron).
· Visit Scene's C-Notes blog at www.Clevescene.com/blogs for an update on the band, plus details on how to get a free Heaven and Hell tour shirt.