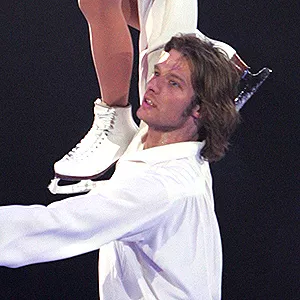 Olympic skater John Zimmerman picks up women regularly. He calls it practice. Lifting his skating partner Kyoko Ina takes a lot of exercise, he says, and he prefers to be creative when it comes to keeping in shape. "I like to lift people up wherever we are and name that lift by the street we are on or a landmark we are near," says Zimmerman, fresh from covering last month's Olympics for Yahoo Sports! and being a contestant on Fox's Skating With Celebrities. "It gives the person lifted a one-of-a-kind experience to write home about."
Zimmerman and Ina are part of the 20th-anniversary tour of Smucker's Stars on Ice, which comes to town tonight. Joining ice greats like Olympic gold medalist Alexei Yagudin and 2002 Olympic Pair Champions Jamie Sale and David Pelletier, the duo — which broke out at the 2002 Olympic Games in Salt Lake City — will skate to songs like U2's "Vertigo." "I have no doubt Kyoko and I could do an elegant program to, say, Swan Lake or something," says Zimmerman. "But we just grew up skating to this [type of music] all our lives. We like skating to something that gets us moving."
Thu., March 16, 7 p.m.