A diner could be excused for thinking that Pizza (216) is baking its pies in a genuine wood-burning oven. Watching from seats at the long bar, or any number of tables near the front of the restaurant, one can observe the occasional log being added to a fiery chamber in the revolving brick oven. Though it's largely heated by gas, the addition of wood boosts the temperature by about 150 degrees, which speeds up the cooking time and enhances crust production. In theory, smoke from the wood might kiss the crust with a hint of woodsy perfume, but that is debatable.
What isn't up for debate is how those pies turn out. The crusts are thin and crisp, but remarkably light and delicate. Like the hybrid oven from where they come, these pizzas sport a texture that lands right in the middle of New York and Neapolitan. Down below, a nubby cornmeal base supports logical arrangements like those on the Spicy Pie ($19), a mix of local sausage, mushrooms, pepperoncini, cheese and spicy red sauce. I expected to abhor the Pierogi Pie ($18), but fortunately the kitchen had a light hand when it came to the mashed potato spread. The combination of potato, cheddar, caramelized onions, green onions, sour cream and bacon really did manage to summon those portly Polish dumplings.
Cleveland is in no danger of running out of pizza, but owners Johnny Lis and Brad Wiescinski managed to generate some early buzz when their fly pies scored high with attendees at a recent Cleveland Pizza Fest. Prior to launch, Lis enrolled in an intensive pizza school in Staten Island, where he learned at the hands of the pros from 25-year-old Goodfella's Brick Oven Pizza. The owners landed a prominent perch, too, in the Old Arcade, which also fronts Euclid. The long space is dark, industrial and not altogether comfortable, especially when you're seated, as we were one night, at a wobbly high-top. Or, as we were on another night, anywhere near the front door. With every ingress and egress, it was as if all Lake Erie's fury thundered through the door and into our laps.
In the plus department, Pizza (216) stocks a beer and wine selection that trumps every neighborhood pizza parlor. Beers from Cincinnati's Rhinegeist Brewery and Athens' Jackie O's join a tight but agreeable and moderately priced wine by the glass and bottle program. Bottles of fruit-forward Argentinian malbec could be had for a little over twice retail.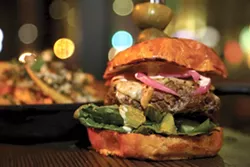 As their hashtag promises, Pizza (216) offers #morethanjustpizza. Their fresh-from-the-oven garlic knots ($5) are old-school delicious, glossed with butter, Parmesan and parsley. They'd be even better if the accompanying marinara wasn't served ice cold. Same goes for the fried provolone ($8), deliciously melty, salty cheese wedges in a crispy crust that are served atop cold marinara on a cold plate (in a cold room). No such issues encumbered the "Giant Italian Meatball" ($10), a giant beef and pork meatball served in a screaming-hot skillet with sauce, cheese and grilled bread for dipping.
Pizza (216)'s menu eschews conventional menu categories like appetizers and entrees in favor of more ambiguous phrases like "More Than Just Pizza." That results in items such as the oven-roasted Brussels sprouts ($8), that you intended to enjoy as a side dish, arriving immediately as an appetizer. Salads, like the seasonal roasted beet with arugula ($9), thankfully, are served as starters. Blue cheese fans might lament the near absence of said cheese, especially given the price.
Other menu items range from fried chicken and cheeseburgers to risotto and pasta, but pizza is where this shop really excels. In addition to a half dozen house-designed pies, the menu leaves room for personal expression. Diners can build their own from the crust up, choosing a sauce, a cheese or cheese blend, and topping it with a host of vegetables and meats.
The prime downtown location makes the shop a great choice for folks heading to or from any number of activities or events. One night we wandered in just as the restaurant seemed to be recovering from a pre-Cavs game rush. Servers were literally sweeping up under our table as we were attempting to eat our appetizers, which seemed a touch intrusive. But other than that, service was always friendly, efficient and remarkably speedy.
For a city as inundated with pizza joints as Cleveland is, it's nice to discover a place that not only is doing it right, but is doing it different. Pizza (216) is crafting pies that are making true believers out of skeptics who argue that we don't need any more pizza places, such as this writer.