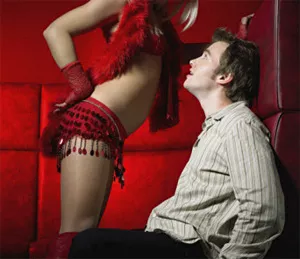 As strip-club owners see it, they're in the business of freedom. And they don't like it when people like Phil Burress, the porn addict turned Jesus freak who heads Cincinnati's Citizens for Community Values, keeps convincing legislators to interfere with their commerce. Especially when that interference is fraught with misconceptions.
Take the 6-foot and midnight rules that were initially part of Ohio's new Stripper Bill. Conservative legislators wanted to keep patrons 6 feet away from the dancers and bar them from performing after midnight. But the rules never made it into the final law. That hasn't stopped customers from believing they did.
Truth be told, as long as a woman has a string around her waist, she's technically clothed, which means she can still have contact.
You also don't have to head home at midnight to watch Lou Dobbs reruns. Fully nude dancing does stop when the clock strikes 12, but only at joints that don't have liquor licenses.
Strip-club owners are desperate to get the word out, since misconceptions over the new law are killing business — almost as much as the no-smoking rules have. "The perceptions and misunderstandings of the law hurt worse than the law itself," says Al Spencer, owner of Crazy Horse Men's Club. "We want people to know that the girls are still beautiful and the beer is still cold."
For adult book and video stores, however, there's no saving grace. Guys must now purchase Shaving Ryan's Privates before midnight — or they'll find their favorite art purveyor closed.
Escorts for Angry Jesus
Speaking of the bare-naked business, a tipster called Punch with news of what he insists is a growing trend. To bypass the weird portions of the new stripper laws — which don't actually exist — the more creative have decided to bring the strip joint to them.
Whenever he visits Cleveland from his home in a small town downstate, our hero heads to Hustler or the Diamond Men's Club. But last week, he and four friends decided against the usual adventure, believing the Forces of Angry Jesus had ruined all the fun. He'd also heard rumors that if a club gets raided and an illegal lap dance is going down, the customer could be charged as a sex offender.
It wasn't true, but it was enough to turn the tide. "I'm a very frugal person," says our tipster, "and the Stripper Bill played a big role in my decision to go with an escort service."
Split five ways, he reasoned, an escort's fee would be cheaper than a strip joint. He made it clear to the escort service that he just wanted a dance. But he was apparently unfamiliar with the lexicon of the trade. "Dance," it seems, is a euphemism for something more commonplace on the menu. And while the woman was happy to ply the conventional duties of her craft, "She didn't want to dance," says our tipster. "She said she was too shy."
Which leaves something of a hole in his alternatives-to-strip-joints theory. "Escort services should definitely add a lower rate if we just want dancing."
Government Work
The Summit County Board of Elections has never provided a friendly work environment. Since it's loaded with political appointees from both parties, it's naturally a den of backstabbing and petty vendettas. "The Board of Elections is probably the most hostile environment I've ever seen," says Republican state Senator Kevin Coughlin.
In 2005, Vondelise Jones was hired as a part-time Republican worker. After suffering multiple strokes, the 51-year-old has short-term memory loss, partial paralysis, diabetes, and a bone disorder. But colleague Bonnie Henderson says she was a model employee. "She is a very quiet, hard-working young lady," Henderson says. "You give her a job to do and she'd do it."
Co-worker Maria Kostados wasn't so impressed. Over the past two years, Jones says Kostados would constantly follow her around the office and scream at her, then conspicuously disinfect the area when Jones walked away. If Jones even looked her way, Kostados would scream, "What are you looking at? Stop poking your stomach out at me!" She adds that Kostados once even spit at her.
But there was a small problem when Jones decided to complain: Her supervisor was Kostados' son, Steve. "He told me that this is not a union company and said, 'Thank God, it never will be,'" Jones says.
Republican director Bryan Williams and party chairman Alex Arshinkoff also ignored her complaints. Finally, Henderson marched Jones down to the Civil Rights Commission, where she filed a complaint against the board.
Steve Kostados declined comment, but he apparently made his sentiments clear to Jones. On January 10, she was fired. They simply told her that her services were no longer needed.
"Right now," she says, "I'm just trying to land me a job that's not violent."