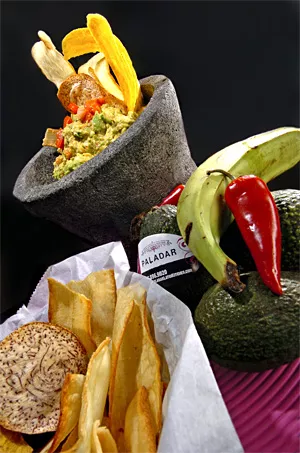 A combo of plantain, yucca, and malanga jazzes up Paladar's one-note guacamole.
It's Thursday night at Paladar, the Nuevo Latino restaurant that opened in August at Woodmere's swanky Eton-Chagrin. The joint is jammed, beset by a noisy, eclectic crowd of upscale shoppers, after-work rejoicers, and the usual East Side foodies. Spare, stylish, and slightly industrial, the space is a sophisticated pour of silver, black, and gray, enlivened by pops of citrus and crimson. But while the décor may seem muted, the energy level roars, and even the gregarious gals from the Red Hat Society, ensconced at a nearby eight-top, are having trouble conversing across the din. "It's noisy in here!" one shouts to her tablemates. "Wh-a-a-t?" comes the chorus of replies.
Meantime, we've got troubles of our own, in the form of an overeager server who seems determined to get us out in record time. Why else does he serve the ceviche while we're still nibbling on guacamole, and bring our entrées before we've barely tasted the marinated fish? Clearly, his tight schedule doesn't allow for clearing emptied plates or refilling water glasses. But he finds time to urge a dessert order while we're still enjoying our mains. When we finally demand to know if there's any particular reason for his hurry, he appears stunned that we've noticed. "No," he admits sheepishly. From here on out, service slows to a comfortable pace.
The way we figure, the kid just didn't know better. But along with some dubious dishwashing on a second visit, this is the kind of thing that should make a restaurant operator seriously question his career path.
In this instance, that would be owner Andy Himmel and executive chef Matt Mytro, both young-but-seasoned players who also run Boulevard Blue, a popular dining room and jazz spot near Shaker Square. After our visit, we called Mytro. To prepare for Paladar's opening, he said, he worked at two Chicago Nuevo Latino hotspots, Carnivale and De La Costa. So we gathered that Paladar's rollout was still something of a work in progress, with issues ranging from noise levels to menu offerings still to be ironed out.
Happily, the wrinkles don't seem insurmountable, and plenty of smooth spots already pave the way. While Mytro's menu tinkering is ongoing, the lunch and dinner lineups are already polished, featuring enticing-sounding collections of pan-Latino eats. They range from the familiar (guacamole, empanadas, and sweet plantains) to the fanciful, including such entrées as guava-glazed pork chops, adobo-rubbed tuna, and sofrito-basted scallops with preserved lemons. Divided into two categories — the homey "Latin comfort foods" and the inventive "Nuevo Latino" dishes — these made-from-scratch offerings reflect Cuban, Puerto Rican, Peruvian, Spanish, Portuguese, and Argentinean accents.
Among the many labor-intensive preparations, the slow-roasted pork shoulder "Cubano" is a top seller, and for good reason. Rubbed with ground coffee, seared over high heat, and then braised for up to 12 hours in seasoned pork stock, the luscious meat is hand-pulled and tossed in a buttery rum glaze. It's then piled onto a plate accompanied by juicy black beans and luscious coconut-mango rice.
For lunch, a thick Cubano sandwich — the traditional stack-up of ham, roasted pork, Swiss, mustard, and pickles, on delicately crunchy slabs of panini-pressed bread — hit all the right notes; a side of slaw, piqued with white raisins and green olives, made a sassy addition. And a salad of pineapple, toasted almonds, roasted piquillo peppers, tomato, and greens, in a dainty tomatillo vinaigrette, was all sweetness and light; for ballast, the accompanying adobo-glazed shrimp offered a burst of contrapuntal heat.
Sadly, the guacamole bursted with blandness. Served in a traditional stone molcajete, the made-to-order starter lacked all hint of citrus, cilantro, or salt. A few big chunks of underripe avocado didn't help matters either. Also a yawner was the plump empanada, with a thick, doughy masa harina wrapper and an indistinctly seasoned filling of black beans and Chihuahua cheese.
To drink, rum is the specialty of the house, and a lengthy, annotated beverage menu lays out an abundance of options, ranging from rare, aged alternatives like West Indian Pyrat Cask 1623 ($40 per pour) to spiced rums, flavored rums, and rum flights. There's also a roundup of mojitos, caipirinhas, and margaritas, along with an assortment of beer, wine, and sippin' tequilas.
For dessert, there are sweeties like ultra-dense coconut flan, sleek mango sorbet, and the fabulous Café con Leche cake — a warm, indulgent confluence of coffee liqueur and semisweet chocolate, baked in an oversize mug and served with a pitcher of frothed, vanilla-infused milk for drizzling. Instead of coffee, enjoy it with cortadito, a sort of sweet, frothy Cuban cappuccino, for the most salutary effect.
And then relax. Sure, Paladar may have a few wrinkles. But with hotshots like Himmel and Mytro on hand, things should be running smoothly in no time.