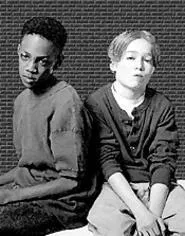 That blacks make up only 33 percent of Cuyahoga County's population -- but 74 percent of the kids in correctional facilities -- would seem a compelling argument that judges treat them more harshly than they do whites. Among liberals, it's long been an article of faith.
Then Case Western Reserve professor William Sabol released a study that, for the most part, determined judges were colorblind in their sentencing. He found that the disparity existed before the kids reached the court: In a three-year period, 24,412 blacks appeared in front of judges compared to 13,562 whites. There may be myriad reasons why blacks are overrepresented at juvie hall, Sabol concluded, but judicial bias wasn't one of them.
It seemed a straightforward if revealing message. Yet like all matters racial, it soon took on a life of its own -- especially after the media grabbed hold.
The Plain Dealer's initial report by Tomoeh Murakami was a rather conventional synopsis. "I thought she did a good job at trying to get at the complexities," Sabol says. Regina Brett followed up with a column that hinted at the study's greater meaning, but raised more questions than answers -- a practice often used by columnists when they're walking too close to a tinderbox. Then The PD's editorial page weighed in with what it saw as evidence of harder truths:
"The study . . . strongly suggests that the racial disparities begin before children enter the system: Black children commit more crimes," the editorial read. It also scolded "the disproportionate number of minority parents who fail their children."
It was a bold assessment by the paper, but it didn't go over well the next morning with officials at a meeting aimed at keeping black youths out of detention. "I must confess," said County Commissioner Peter Lawson Jones, "as a minority parent, I took particular umbrage and offense to that statement." Cleveland Municipal Judge Ronald Adrine was similarly displeased: "I don't think this is a problem that can be laid solely at the feet of uncaring minority parents."
Sabol was eager to distance himself from the newspaper's claims. "I believe The Plain Dealer's interpretation was wrong," he said at the meeting. "It's a mischaracterization of the study I did."
It's easy to see why a white guy from the hypersensitive world of academia wishes to reject the label The Man Who Proved Black Kids Commit More Crime. With his slightly unkempt salt-and-pepper hair and requisite beard and glasses, Sabol fits the caricature of a professor.
But as he points out, his research doesn't suggest black kids commit more crime. It does suggest they get caught and sent to court more often. The distinction is far from academic. Drug deals in poor communities tend to take place on street corners. In suburbia, the transactions are more likely to happen in Dad's wood-paneled den or the family minivan. It's only natural that police catch more bad guys who conduct business in the open.
Moreover, the study only exonerates judges, Sabol says, not the entire criminal justice system. Police might show bias in who they arrest, and black kids may have less access to diversion programs that could keep them out of juvenile court. For example, juvenile court runs its diversion program through 38 sites in Cuyahoga County, but only two are in Cleveland, and the one on the East Side temporarily stopped taking referrals earlier this year to catch up on its backlog.
"There are all these different steps, and bias could occur at any of those," says Sabol.
These finer points were addressed in Sabol's research, which just makes it all the more baffling to him that The PD editorial strayed so far from his findings. He says the paper "was trying to take a complex issue, with many causes and many unknowns, and boil it down to one point: I want to blame families."
It's a common lament the professor has about the media. "When you try to condense it and simplify and generalize, you make big mistakes," he says. Almost every time the media has covered his research, he's disagreed with how it was portrayed. Yet he also shares the blame.
Like most academic research, Sabol's study reads with the fluidity of a NASA training manual -- a style designed to impress peers rather than communicate with lay people, which makes it ripe for confusion. And, notes Phillip Morris, author of the editorial, the paper never said the professor was blaming families. "I think most readers understand clearly that this was an expression of the opinion of this editorial board."
Morris points to the study's statistics to support his conclusion that black kids commit more crime: In the violent crime category, there were 6,358 black offenders compared to just 3,472 whites. Unlike drug crimes, he says, "If a kid is raping or murdering, the success rate on solving those types of crimes is much higher."
But Sabol says rapes and murders are a very tiny percentage of violent crimes. In 1999, for example, more than two-thirds were domestic violence or assault -- which could be as minor as a playground skirmish. Those crimes may be treated differently if they occur in the suburbs, rather than the city.
And Sabol still bristles at the suggestion that African American parents are to blame. Race, he says, is a red herring, and economic inequities are the real culprit. So the professor has begun another study, this time testing the theory that poverty is responsible for the glut of black kids referred to the court. It may sound like researching the obvious, but there will be far less room for misinterpretation.