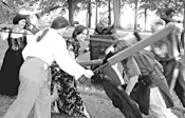 Some of the pugnacious inhabitants of the Kingdom of Pentwyvern.
SAT 7/3
As "queen" of the Kingdom of Pentwyvern, Shana McCoy knows that her subjects are primed to kill her.
On the first Saturday and third Sunday of every month, McCoy and her husband dress up in medieval garb for an afternoon of fantasy battles in "Pentwyvern" (geek-speak for "Five Dragons"). Armed with foam-padded shields and plastic swords, warriors touch and "kill" opponents for points in a three-hour clash. Eliminating the queen or a knight scores 10 points. A squire's death is worth five, and the demise of a lowly commoner has a mere two-point value. If you die, you sit out for five minutes before rejoining the match. "Our head referee comes up with the plan, like, 'These guys are the knights, and you guys are the brigands, and you're supposed to go kill the knights,'" says McCoy. "The stories are limitless."
So are the costumes. McCoy admits that she makes her outfits from "whatever's on the dollar-fabric bin at Wal-Mart." But the uniform's pattern is left to the imagination. "It's like watching the coolest movie ever made," she says. It happens 1 to 6 p.m. Saturday at the Carlisle Reservation Duck Pond, 12882 Diagonal Road in LaGrange. It's free for spectators, $2 for combatants. For more information, call 440-288-8206. -- Cris Glaser
Enter the Dragon Boats
Water fest on the Cuyahoga.
SAT 7/3
Even though Independence Day will be celebrated in abundance this weekend, be sure to leave room for a little Chinese: The Dragon Boat Festival returns to our waters on Saturday. The 3,000-year-old Chinese rowing competition features 18 to 22 paddlers manning 44-foot-long flat-bottom craft that are elaborately carved and vibrantly painted. "For all its deficiencies, the Cuyahoga is still a cool, cool resource," says Mark Silverstein, executive director of the Cleveland Rowing Foundation. "There are a lot of people trying to decide what to do with Cleveland, and I hope they realize that we have an incredible river area for recreation." You can catch the action 9 a.m. to 3 p.m. on the West Bank of the Flats (between Scene Pavilion and Shooter's). Admission is free; call 440-808-2288. -- Lucy McKernan