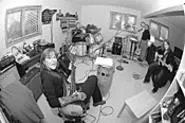 Akron's Chi-Pig will reunite for the first time in 20 years at the Nicked-Up Benefit.
Last summer, Sue Schmidt showed up at Richard Roberts' door with a surprise.
The Chi-Pig guitarist was dropping off their long-lost babies -- the songs that the new-wave trio (which includes Roberts on drums and Deborah Smith on bass) had recorded back in 1978, when Akron was still being celebrated as the hotbed of inventive new bands.
Schmidt, now an academic historian, had recently acquired the recordings through the band's old sound engineer, who was worried that the songs would be lost forever if the band didn't try and put them out on CD. As Schmidt passed the restored recordings on to Roberts, he gave her a sober stare. "No reunions," he said.
"In 20 some years, there hasn't been even a sporadic conversation about getting back together," says Roberts. "It wasn't until Bob Ethington called."
In November, the band got a call from fellow Akron musician Bob Ethington, ex-drummer for dark-pop darling Unit 5 and percussionist for the second coming of storied Akron art rockers Tin Huey. He had some bad news.
Tin Huey's bassist Mark Price has cancer, he said. Liver cancer. And no health insurance.
Price had only recently discovered the advanced cancer in late October. As he began rounds of chemo, the bills added up. He keeps them unopened, in a neat pile on the desk of his home office out in San Francisco. He has no idea what he currently owes.
Ethington decided to organize a benefit show to help defray the costs of Price's treatment. Before he even got a confirmation from the Hueys, other Akron acts, young and old, were already eager to help out. Roberts willingly ate his words.
The event spiraled into a two-day, sold-out benefit at the Lime Spider, which takes place Friday, April 8, and Saturday, April 9. The roster includes the Black Keys, Ralph Carney and Friends, Half Cleveland, Houseguest, CD Truth, the Walking Clampetts, the Difficult, the Kristoffer Carter Show, and others.
"It is so sweet," says Price, who'll be joining Tin Huey onstage on Saturday. "This whole thing has been so amazing for me, just witnessing all these people coming out of the woodwork and coming together."
Price is the first to admit that this isn't just any benefit. With bands like Chi-Pig, the Bizarros, Tin Huey, the Numbers Band, and Unit 5, it'll be the first time in more than two decades that Akronites will have the chance to experience the Rubber City music scene that once had everyone from David Bowie to Atlantic Records co-founder Jerry Wexler in awe.
In 1978, the renowned N.Y.C. music writer Robert Christgau got his hands on a split LP by the Bizarros and Rubber City Rebels titled From Akron. "I looked at a map and ascertained that Akron was about 40 miles south of Cleveland and 10 miles west of Kent. Something was obviously going on out there," he wrote in the Village Voice.
On April Fool's Day of that same year, Chi-Pig played its first show with Tin Huey. They performed upstairs at the now defunct JB's, a club in Kent.
That night, Jerry Wexler sat at a table, waiting to sign Tin Huey to Warner Bros.
Nick Nicholis, lead singer of the Bizarros and owner of Clone Records, sat next to Wexler as Chi-Pig took the stage.
The band was decked out in Carmen Miranda shirts and gold lamé pants. Smith wore hot dogs in her hair -- kosher, of course. As the group lit into the tongue-in-cheek tribal accents of Apu Api (Help Me), Kent boys piled up at the edge of the stage, drooling over the girls' oblivious coolness.
At that time, it was all about getting a record deal. The Bizarros were going to Mercury Records, Tin Huey and Devo to Warner Bros. "There was tons of major-label attention," says Smith. "And everyone wanted their record deal. That was the goal. But sometimes, the effort began to outweigh the rewards."
As bands were signed, they'd leave -- to tour, to record, to live. Chi-Pig went to record in Miami. Tin Huey went to Hollywood.
Back in Akron, they were replaced with younger outfits like Unit 5, which Mark Price recorded at his studio, Bush Flow -- once the home of the Akron sound. "Everyone helped each other out," says Smith. "We were like the Little Rascals. We did everything on our own."
By the early 1980s, the music industry had moved on and left Akron behind. Akron bands and their recordings lay hidden under the debris of voided contracts, though the scene quietly kept bubbling beneath the surface.
In recent years, Akron bands have begun to rediscover their past. Members of Tin Huey began remixing their last recordings for Warner Bros. into the self-released album Disinformation. Nick Nicholis reformed the Bizarros and recorded a new record, You Can't Fight Your Way Uptown. Even Chi-Pig began salvaging the remainders of its music and recently released its 1978 recordings as Miami.
But it wasn't until word of Price's cancer got around that a full-blown reunion was in order. And now that the music industry has its focus elsewhere, the record contract is the least of everyone's concerns. "The music that we do is pretty complex," Price says. "But now, it's swung to be more natural. It's more of the moment -- if I mess up a note, fine. In the big scope of things, it doesn't matter."
Schmidt describes revisiting Chi-Pig's songs as making a good stew. "You let the music sit and settle, and they get better with age," she says. "They're less constrained. Plus, before we were very concerned with the performance, and now, it's just about having fun playing pure music."
For Nicholis, it's about reliving the past. "As you get older, those are your best memories," he says. "Life is more about spending time with people you love, be it your family or friends. These are the people I want to be with."
Since Price got news of the benefit, his health has been improving rapidly. He credits all the support. His doctor is even allowing him to hold off on chemo treatments so that he can attend the show. "We're just appreciating what's up now," he says. "And assuming that the band members all keep ticking and stay above-ground, we're gonna do some neat stuff in the next few years."