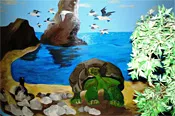 Playing in the sand during a Cleveland December sounds like a recipe for frostbite and windburn. But the Children's Museum of Cleveland encourages the playfulness in its 10th annual exhibit,
Galapagos Sands: Exploring the Centuries
. "It's the absolute favorite exhibit at the museum," says operations director Leland Merk. "People ask about it all year, because where else can you play in sand in the winter?"This year's exhibit puts a spotlight on the Galapagos Islands over the centuries, from its native flora and fauna to its current eco-crisis, in which thousands of visitors have threatened the once-pristine beaches. A few times a week, the museum features free programs, including this week's pirate camp for kids between four and six years (Is this part of the exhibit? unclear). As they play explorer, they'll solve clues and hunt for treasure. "We'll draw them in by telling them they're pirates, but then we can teach them by using animal identification and natural history," says Colleen Cross, the museum's education director. "It's not all booty and drinking."The exhibit also houses the Charles Darwin Research Station, which is a mini-replica of one that exists on the islands. There are also programs built around Darwin's childhood interest in animals and biology. And no 70-ton exhibit of sand would be complete without a huge sand sculpture by Carl Jara of Cleveland, who's applauded across the country for his creations. This year's piece is a giant tortoise with iguanas, seals, and crabs engraved on its back. It is a fitting invitation to explore your inner Darwin, and a great excuse to play in the sand. "We serve a lot of underprivileged kids. And I'm always amazed when school groups or day-care groups come in, and they haven't seen a beach," says Merk. "For them, it's a completely new experience." The exhibit is on display from 10 a.m. to 5 p.m. daily through Sunday, April 13, at the Children's Museum of Cleveland, 10730 Euclid Avenue. Admission is $7 ($6 for kids). Call 216-791-7114 or visit
www.clevelandchildrensmuseum.org
.
Dec. 30-April 13, 10 a.m.-5 p.m., 2007