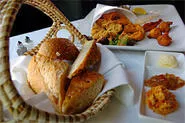 A basketful of bread and a bevy of side sauces elevate fried veggies to Low Country heaven.
Not everything sizzles at
Henry's at the Barn,
a pretty restaurant, bar, and outdoor dining room in Avon. But when chef-owner Paul Jagielski gets his mojo all cranked up -- mainly in the form of snazzy sauces -- the flavors of South Carolina's Low Country blast forth like bolts of lightening.
Open since November in Olde Avon Village, Henry's aims to deliver true Charleston-style charm -- complete with historic ambience, upscale appointments, and a large, labor-intensive menu of Low Country fare, including she-crab soup, shrimp and grits, and fried okra and oysters. A self-avowed "Polish Yankee," Jagielski came by his Southern stylings during a lengthy stay in Charleston, the fast-beating heart of the Low Country, where he attended formal culinary school and learned firsthand from traditional Gullah cooks -- descendants of the slaves who instilled seafood-centric cuisine with its distinctive African accent.
If you want the Gullah grannies to reveal their culinary secrets, Jagielski soon discovered, you have to earn their respect. And nothing accomplishes that like demonstrating a mastery of shrimp and grits.
Jagielski clearly has done his teachers proud. His restaurant transforms this homey staple into an elegant indulgence, an almost soufflé-like combination of stone-ground grits and heavy cream, piqued with plump, sweet shrimp and plenty of spicy andouille sausage. So rich you really ought to share it, but so yummy you won't want to, the dish overflows with flavor.
Jagielski also cooks up a spot-on rendition of Charleston's signature she-crab soup -- a sleek, ultra-rich bisque, flavored with blue-crab meat and roe that turns the soup a soft, ballet-slipper pink. It, too, ranks near the top of the yum scale.
On the other hand -- despite some obvious effort in the kitchen -- a fried chicken dinner just never stood up and crowed. Neither dry nor juicy, the boneless breast meat was lost inside a limp blanket of heavy breading, and while the crust's peppery bite was a plus, its flaccid texture was a minus. Sadly, accompaniments of black-eyed peas and slowly simmered collard greens didn't bring the dish to life.
In retrospect, what was missing was one of Jagielski's sassy, made-from-scratch sauces -- that sweet-tart Carolina BBQ sauce, with its vinegary tickle, or that amazingly sharp yet infinitely mellow cayenne-tweaked hot sauce. Either one would have blown the boredom out of that dreary chicken.
Look what they did for the Calabash, a medley of breaded and fried noshes, including oysters, Vidalia onion rings, hush puppies, and okra pods, all crunchy outside and delightfully slimy within. Along with a smooth, spicy rémoulade -- vibrating with essences of capers, anchovies, and Cajun spices -- the sauces turned what was fundamentally a bunch of fried stuff into a heap of fried goodness.
Likewise, a whole-grain mustard rémoulade was the saving grace for a meaty but relatively bland crab cake, bound southern-style, with cracker crumbs in place of bread. The sauce helped the cake stand up to the competition from its accompanying blackened potato salad, a mouthwatering romp of Cajun-spiced spuds, lightly dressed with sour cream and mayo.
There were other high-test add-ons too. A lip-smacking horseradish cream sauce, boosted with a bit of black pepper, added oomph to a tender, bacon-wrapped filet mignon. A zippy corn relish enlivened a mild blue-crab salad. And the smoked Vidalia onions and citrus vinaigrette upped the flavor in a duo of plush seared scallops. On the other hand, the small puff-pastry "peach pie" that also accompanied the scallops proved sort of dry, sort of dull -- a good idea that somehow flopped in execution.
We weren't impressed, either, with our giant "fish bowl." The oversize porcelain vessel was filled with crushed ice and topped with our choice of raw-bar offerings -- which this night included four Dabob Bay oysters on the half-shell (sweet, briny, but terrifically tiny, especially considering their $2.50-per-pop price tag); four Jonah crab claws (overcooked and so small that our companion insisted they were more like crab hangnails); and two jumbo poached shrimp (perfectly crisp, sweet, and worthy of the jumbo designation). But again, the most amusing part of this pricey starter was the accompanying sauces: a sweat-inducing cocktail sauce, a lemony aioli, and shaved malt-vinegar ice that went swimmingly -- if very briefly -- with the oysters.
In another nod to Low Country culture, Jagielski serves thick slices of Breadsmith baguettes in traditional sweetgrass baskets imported from Charleston. On the side, honey butter, sweet-tart chowchow relish, and pimento cheese -- a zesty blend of sharp cheddar cheese, pimentos, cayenne, and paprika -- make gracious touches.
The Friday-night service was less gracious. The hostess couldn't locate our reservations. We were then seated at an undersize, uncomfortable two-top, then rushed through our meal by a put-upon-seeming server. (Incidentally, by the time she finally pushed us out the door, the dining room was nearly empty.)
Even if she hadn't given us the heave-ho -- a move that always makes our final nibbles taste a little bitter -- we wouldn't have found any unqualified winners among the kitchen's homemade desserts. At least not the pecan-bourbon tart, needlessly slathered with too much chocolate ganache, nor the whipped-cream-topped Key lime pie. Suffering from a total lack of limey zing, it wasn't memorable enough to justify the calories or the cost.
Not that they were awful. But next time, we just may ask for hot sauce on the side.