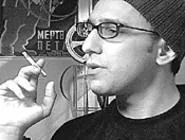 In
Filmic Achievement
(showing at the 29th Cleveland International Film Festival), a group of film-school students are asked to pitch a story, one at a time, to the rest of the class. The first guy throws out a tale about a kid cutting school, the principal on his tail, and the high jinks that happen throughout the afternoon. Yes, it's exactly the same plot as
Ferris Bueller's Day Off
. "There are a lot of people like that in film school," says Kevin Kerwin, the film's writer and director. "I just tried to heighten them."
Kerwin, a Pittsburgh native who graduated from the Columbia University School of Film, lives in Chagrin Falls. Filmic Achievement, which is making its world premiere at the festival, is his first feature. The movie -- a biting mockumentary -- plays like a film-school version of This Is Spinal Tap, filled with characters both delusional and devoid of talent. "It started as an idea I had in film school the first year I was there," says Kerwin.
Among the folks populating the movie's fictional school are a mopey trust-fund girl who dabbles in performance art and wants to make an abstract film about herself, a Quentin Tarantino fan in a baseball cap who lives in his mom's basement, and an ultra-pretentious existentialist who draws inspiration from movies made in total darkness in 1940s Europe. "I ran across a lot of these people at school," says Kerwin.
The budding filmmaker worked as a copywriter for a local ad agency for a couple years before he and his wife, who's originally from Chagrin Falls, moved to N.Y.C. so he could attend school. Soon after, he wrote Filmic Achievement (which is now being shopped to other film festivals across the country). It was made with stage-actor pals in New York over 24 days for $15,000.
Next up, says Kerwin, is a satire about student activism. "My director of photography said, 'Oh great, another film that skewers something,'" he laughs. "But I have thought about doing something earnest too."